No wall art can offer as much sophistication, texture, and warmth as wooden wall decor. If the house's empty walls are haunting you in your dreams, and you'd appreciate the natural charm of a wood wall decor, you've come to the right place.
In this post, we're going to take a look at a wide variety of wooden wall decor ideas. From rustic to modern, ready-made to DIY driftwood wall decor, hopefully, you'll find the inspiration that you were looking for here.
---
Wooden Wall Decor Panels
Made from natural wood (hardwood or reclaimed), these panels are one of the most elegant options to decorate your feature wall.
There are even different styles of these panels, including rustic, modern, and 3D; so they work perfectly with every interior.
Floating Shelves
Floating wooden shelves are perfect for any theme (modern, rustic, farmhouse, etc.) and any room. Even one shelf and a few items like plants, books, or pictures on it can make a huge difference in your space.
Rustic shelves made from reclaimed wood are warm and charming, while sleek shelves or the ones with a more creative structure (like a hexagonal) pair well in modern settings. The world of wooden floating shelves has a lot to offer!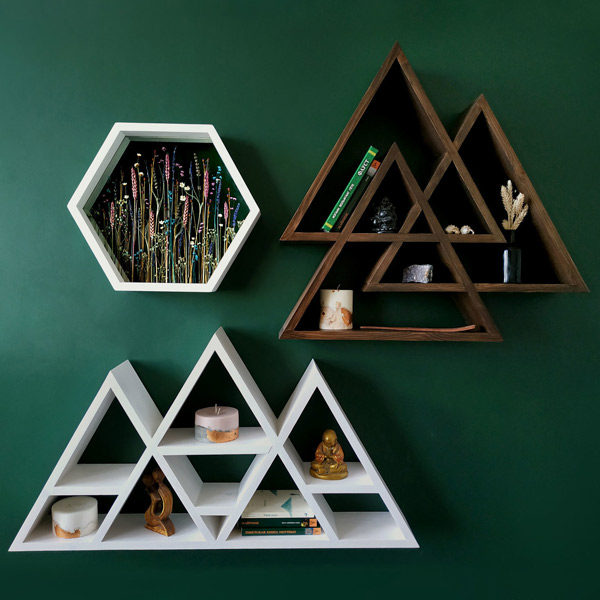 Carved Wood Wall Decor
Carved wood has a unique authenticity among other options made from this material. The delicate patterns of this type of wood wall decor, whether it has neutral or dark tones, it is one-piece and large or small with different pieces, makes it perfect for making a statement.
If you find yourself fascinated with eastern history and culture, such arts can meet your expectations gracefully. Accent walls are a huge design trend right now, so don't think twice about it.
Old Window Frames
Why throw away old wooden window frames when you can repurpose them into something beautiful?
These frames make an amazing rustic wall decor even without repainting. You can also add family pictures to create a lovelier accent wall. Another similar idea would be using reclaimed barn board with hex wire mesh.
Reclaimed Wood Wall Decor
For those of us who have the environment in mind while designing and styling, reclaimed wood wall decor is the perfect go-to. The fascinating thing is that the options are limitless with reclaimed wood; there are so many pieces that you can create for the living room, bedroom, etc. For example:
Aztec style wall art with unique geometric patterns with reclaimed woods of different tones, which looks nice in both modern as well as rustic and bohemian interiors.
A large reclaimed board, paint, and some creativity result in another wooden wall decor DIY. However, if you are short on time (or you were never really a painter), you can try UV ink or photographic prints to create a stunning and modern wood wall decor.
These are only a couple of art pieces that you can make with reclaimed wood. Try different designs, mix and match colors, use contrast, and create a stunning accent wall.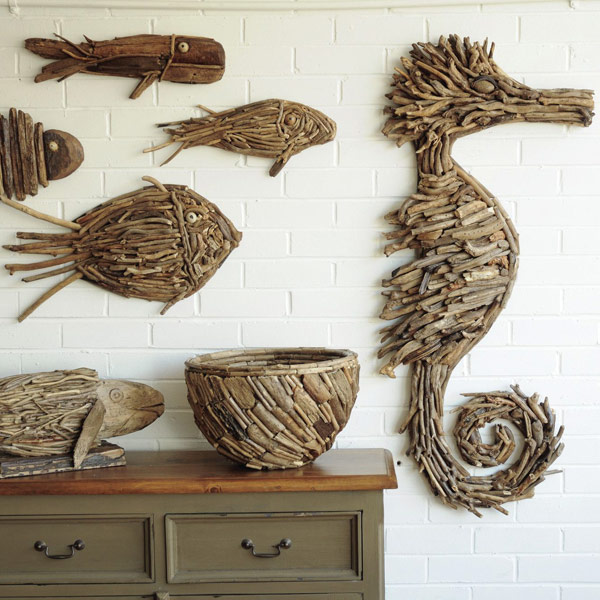 World Map Wooden Wall Decor
Now, this is an idea that never gets old: 3D wooden world map wall art. There are different models of this map in the market, from eco-friendly ones to handmade ones, or even the ones that feature flag push pins so you can mark where you've been or you're going to visit.
If you travel a lot or you're simply curious about different parts of the world, this wooden wall decor will not only bring interest to your interior, it's also excellent for bringing up topics to talk about in gatherings.
Driftwood Wall Decor Ideas
Driftwood wall art is getting more and more popular among wooden art home decorations, and there is a reason for this hype. While they are easily found in the surroundings (especially beach sides), and you can make them quickly, driftwood wall decor ideas bring as much charm and warmth as other options.
After finding some raw material, here are some of the things that you can make:
Driftwood Circle Wall Art: Wreaths are one of the ultimate circular wall arts that you can use for your feature wall. To take this idea to the next level, feel free to use seashells, bows, or faux plants.
Wall Signs: Another unique idea to bring driftwood to any space is a driftwood sign. Keep in mind that it doesn't have to be complicated. For example, you can simply print a special date or words on the driftwood. Use cup hooks and twine or rope to hang this driftwood wall decor.
Driftwood Mirror: To make an expensive-looking piece of art with this cheap material, all you need is a mirror, twine-wrapped wreath ring, and a lot of driftwood and voilà, your eye-catching driftwood wall art is ready.
Abstract Driftwood Wall Art: You can always create meaningful shapes with this material (heart, leaf, tree, letters, etc.) by simply drawing that fish on a plaque, cutting it out, and gluing driftwood pieces to cover it. However, you can spice things up and go for abstract wall arts.
Hangings and Holders: Jewelry holders and wall hangings are some of the quickest pieces that you can make. Such wood wall decors with hooks offer a little bit of functionality as well. You can even install floating driftwood shelves for a rustic touch.
Weave Tall: The combination of yarn weavings and driftwood reclaimed pieces is another amazing idea to bring seamless beauty and charm to your wall.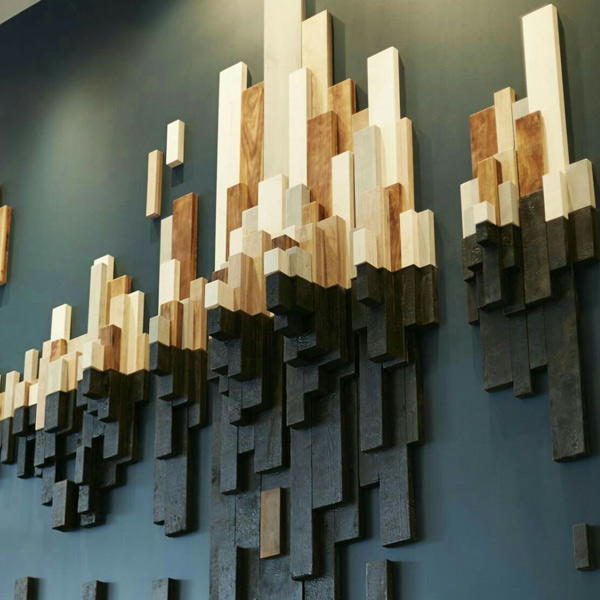 Wooden City Maps
In addition to world map wooden wall decor, 3D wooden country and city maps are other available options. You can find the map of your favorite cities in different sizes and amazing details at stores.
Wooden Wall Decor Signs
Signs are a classic in wall decor. Depending on your taste and setting, you can use different vintage, rustic, metal and wood wall signs and more with related quotes and phrases.
Whitewashing, interesting calligraphy, or using boards with gray weathered stains are a few things that take these wood wall decor ideas to a new level.
---
Which One Is Your Favorite Wood Wall Decor?
Ready to style your walls? Let us know in the comments that which of these rustic, modern, or unusual wooden wall art you liked the best and you're going to use. Happy decorating!