The bathroom is the space in our homes where we fully enjoy our privacy every day. Therefore, bathroom remodel deserves all the attention that it gets!
Most bathrooms are small spaces, which makes implementing bathroom remodel ideas tricky. With all the functional or simply beautiful options out there, we may end up with a space that is not as comfortable and spacious as before bathroom home improvement.
Here, you will find a complete guide on how to remodel a bathroom. First, we are going to go through what you need to consider before bathroom renovations. Next, you will find a handful of creative ideas, and finally, will talk about what you need to avoid during this process.
Bathroom Remodeling: Considerations
Let us review what you need to think about before the restroom remodel:
Mind the Shape of Your Space
Normally, small bathrooms have rectangular or square shapes, and you need to identify this first. According to the shape, you have the following winner options for a bathroom remodel:
In rectangular bathrooms, you can highlight horizontal lines and create a feeling of spaciousness.
In square spaces, we recommend looking for materials with square appearances, which helps you use the space more efficiently as well as elevates the overall look.
Choosing the Color for Bathroom Remodel
Selecting a color is an important step in this process. There is a world of colors to choose from, but it is better to go for neutral and light tones for the main elements. Later, you can add bold colors with a few accessories here and there.
A useful tool for selecting the colors for your bathroom remodeling is the color wheel. This allows you to find colors that contrast and complement each other. You can use a palette with 3 colors, the first option would be monochromatic, the second analogous, and the third complementary.
Of course, the classic combination of black and white is also a valid option for all bathroom remodel ideas.
Tip: Also take the climate, landscape, or environment into account when mixing and matching to find the right set of shades for your dream bathroom.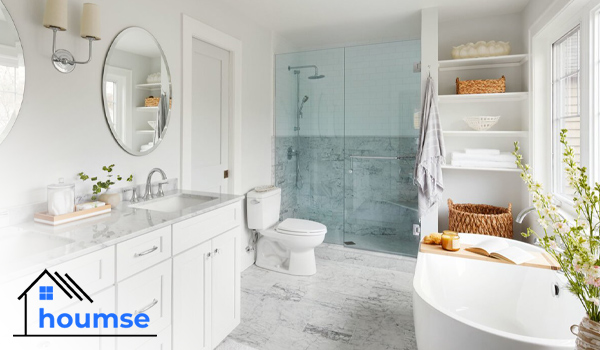 Humid vs. Semi-Humid Areas
In bathroom renovations, walls are often altered in a way. Before that, it is a good idea to understand that there are humid and semi-humid areas within them. This influences the type of finish for each.
Humid Areas
In a humid spot like the shower area, ceramic tiles are mostly. If that is also your choice for master bath remodel, make sure that the joints are as small as possible so that they are visually understood as a whole and not as separate elements.
The ceramic tiles in trend are rectangular in format and once installed, make the space look larger. Currently, you can find these tiles in wood or stone finishes that give your new bathroom a unique and natural touch.
One of the bathroom remodel ideas is actually right here: combining types of ceramic tiles on the side and front walls. You can install ceramic throughout the space but remember to create a focal point by highlighting one wall (preferably the one located in the back) using different tiles either in texture or color.
This way, you can expand the spatial perception when bathroom renovations are done since depth is generated at a visual level. There is also the option of choosing the same material for one of the walls for the flooring to create a nice flow in the environment.
Semi-Humid Areas
In the semi-humid area, you give the walls a new look with moisture-resistant paint without the need to install ceramic elements.
A touch of fresh color may seem boring among all these bathroom remodel ideas; however, it brightens your space. It lets the eyes rest while allowing other accessory elements or fixtures to stand out.
Tip: We do not recommend wallpapers as they tend to peel off due to humidity.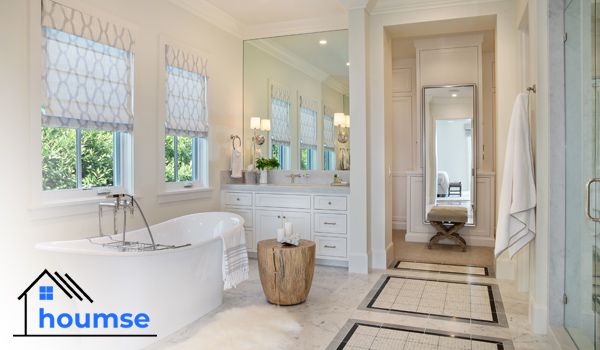 Bathroom Remodel Ideas
Now, let us see what your options are to make a more efficient and beautiful space:
The Right Floor for Bathroom Remodeling
By selecting different materials for the floor and the walls, you can highlight the characteristics of each (like the extension of the floor or the slenderness of the walls) while creating a charming flow between colors and textures within the composition.
In small bathroom remodel ideas, the floor is perfect to enhance the decor. You can install attractive tiles highlighting their pattern and color. Then, leave the walls in light tones to let the space breathe and create a light atmosphere. Also, think about using a shower tray for added style and elegance.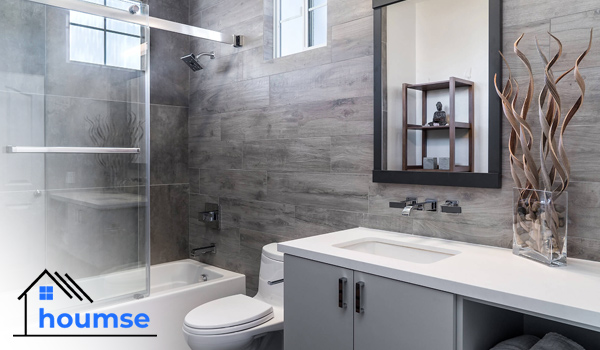 Installing a New Toilet
If you are thinking about replacing the toilet during bathroom remodeling, consider the measurements and make sure that once installed, it is comfortable for use. Be careful that the space between the toilet and the opposite wall is not (very) narrow.
For small bathroom remodel ideas, it is best to go for one-piece and compact toilets that are floating.
Faucets and Bathroom Home Improvement
The faucet is the protagonist of the bathroom. They are small but act amazing for boosting the sophistication, luxury, and of course design in any restroom remodel. And since everyone interacts with them, it is important to make this part the metaphorical cherry on the cake.
By choosing a faucet with as golden, copper, nickel, onyx black, or matte black finishes, you guarantee that they will not go unnoticed when maintaining your personal touch among updated bathroom ideas.
Check the technology as well. Choose taps with water saving and flow control as well as technologies focused on hygiene and preventing bacteria formation inside. Why? Because bathrooms are humid where certain bacteria find it ideal for rapid spread.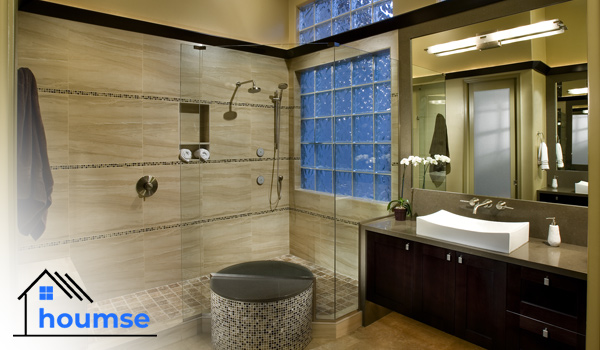 Enhancing the Space with Furniture
By choosing pieces like furniture, partitions, and mirrors right, you can take advantage of the design of the bathroom. Let us see how.
Furniture
Since a storage place is necessary for bathroom renovations, one option is suspended furniture installed on the wall since it takes up less space as well as acts as a support for the sink.
Such elements with natural wood tones and textures are super smart, as they pair well with ceramic sinks. Flat tones without texture go very well with glass sinks. The decision is yours in the master bath remodel, trust your taste! Shelves are also perfect to hold toiletries or wood or glass decorative pieces.
Partitions
In small bathroom home improvement, the best option to divide the shower or bathtub is a tempered glass sliding door, which offers more space since you do not have to open it at 90º. The partition sliding system must be stainless steel if possible, so it is resistant to corrosion due to permanent contact with water.
Mirrors
Round mirrors are excellent options and are currently on trend. Along with bathroom remodel ideas, they create an exquisite space as well as reflect the light. We suggest hanging one without a frame or with a very thin gold or copper frame that works great with other elements.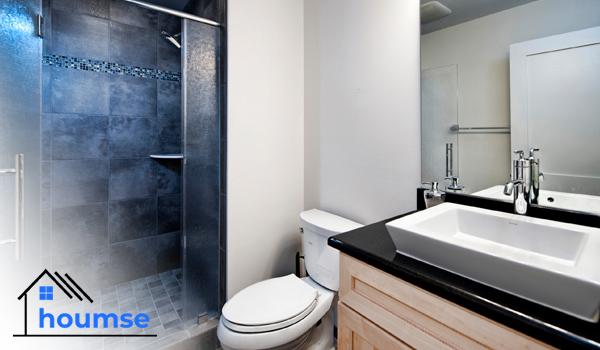 Lighting in Bathroom Renovations
Lighting is a key point in your restroom remodel project. There are different colors of light:
Warm (Yellow): It offers a cozy feeling and combines very well with wooden finishes and earthy colors.
White: This cold light provides a peaceful and relaxing vibe and goes well with light colors in bathroom remodel ideas.
Natural Light: That is a charming combination of these two.
The lighting can be direct or indirect. Also, you can combine them in the same space and control them independently according to the time of day.
In bathroom home improvement, indirect light can be installed on the back of the mirrors and furniture. This way, you can dim the light at night and early morning when you can use less brightness. Direct light can be installed on the ceiling with small-diameter halogen bulbs on strategic spots like above the mirror or toilet.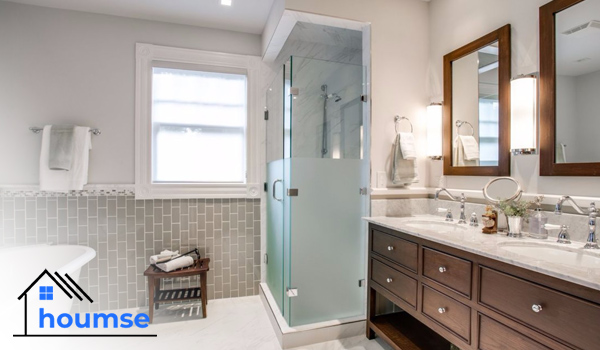 How To Remodel A Bathroom with Accessories
Bathroom accessories can make a huge difference in your project. To create harmony among these objects (towel racks, hangers, toilet paper holders, etc.), use accessories with finishes like those of the faucets.
We are talking about material, color, and patterns of curved or straight lines. This ensures that the entire space has the same visual language after bathroom remodeling.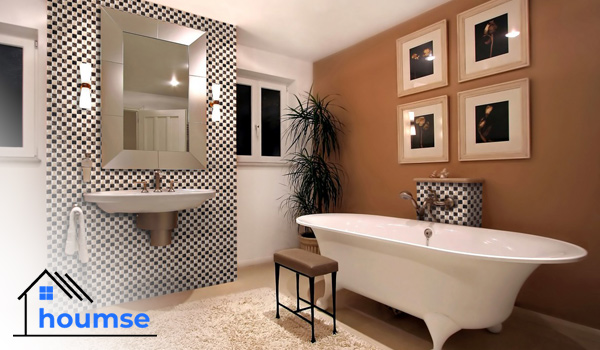 Bathroom Remodel Ideas to AVOID
This is how not to remodel a bathroom:
Only Renovating the Looks
Do not settle for renewing only what is visible. Take advantage of this project to ensure you are going to enhance the condition of everything.
Bathrooms have high traffic and are exposed to different damages, especially from humidity. So, make sure to invest enough money for bathroom remodel by using resistant materials suitable for this environment.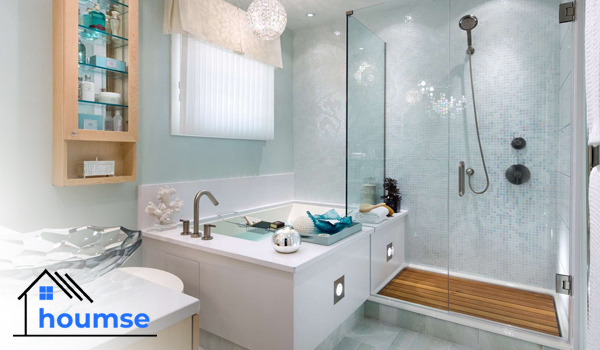 Bad Installations
Safety is always a priority in bathroom home improvement. When electricity, water, slippery surfaces, and people in a hurry come together in a small room, the probability of an accident is quite high.
Poorly electrical installations, a shower door that is not placed in the right way, a slippery floor, etc. all can be a serious risk. For this reason, it is essential to take the utmost care and hire professionals for these types of bathroom remodel ideas.
Poor Ventilation
This is a common mistake in master bath remodel. Proper ventilation is essential to avoid condensation, humidity, and consequently mold in the bathroom.
As beautiful and comfortable as your bathroom may be, you will not be able to enjoy it if there is constant worry about maintaining the ceiling and walls. Even if you have a window, do not neglect this aspect of bathroom remodeling. Invest in a good ventilation system with a timer, if possible.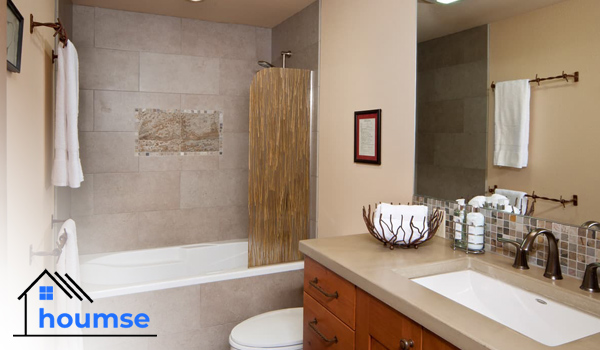 Preferring Aesthetics Over Functionality
Thinking of the dream bathroom should not let you forget how important it is to make this space, above all, functional. The various elements must be arranged in a way that there is space between them and intuitive use.
The ideal distance between the toilet and the bidet should be about 10 inches so that it is possible to use them comfortably. In the shower, the door when opened must always be considered (if there is one). Also try not to place the toilet next to or in front of the door, because those who use it may feel uncomfortable and exposed.
Using Incompatible Materials
After reviewing multiple references about styles and materials for bathroom remodel, it is common to define preferences and mix and match various types of metals, woods, or tiles in the same bathroom.
However, using advice from several references is another mistake that can result in a confusing, unsophisticated, and cluttered space. Always invest in elegant, durable materials specially made for this part of the house.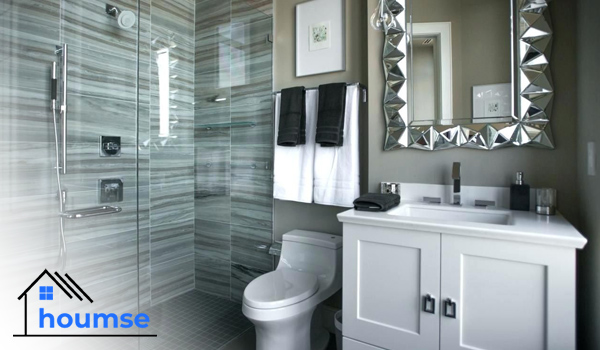 Thinking Short Term
Your bathroom can last for many years, without renewing the materials. Anticipating the future needs to make a universal and timeless space will save you money in the long run and make it much easier for you to sell or rent the property.
Sometimes we are fascinated by popular bathroom remodel ideas and trends, but when they go out of style, we just want to get rid of them (think of the typical pink tiled bathrooms in grandparents' house).
Bathroom Renovations: Final Tips
In decoration, less is more. Plants bring life to any space and there are multiple varieties that provide color, textures, and shapes that adapt to the environment created in the bathroom.
Handicrafts are an inspiring touch for all tastes. Place them in the spots where they can be appreciated.
A space decorated nicely is never overloaded. Keep in mind that a well-placed element is more relevant than many in disarray.
Maybe it is better not to go with bathroom updates with letters. They give weight to the environment, distract, and become elements that take away much attention from other installed elements which are more subtle.
The decoration of bathrooms is open to all possibilities, you can also focus on a specific theme and make the style revolve around it: ideas that enhance the climate where you are, flora, etc.
In bathroom remodeling, consider adding candles, incense, aroma diffusers, and why not, a waterproof speaker so you can listen to the music you love.