Bathroom walls require a specific quality, like the other walls in other parts: durability against water and humidity. Ceramic tiles are a common choice when it comes to bathroom walls materials. Today, there are so many types of tiles to choose from for bathroom walls that you might not even consider other ideas for bathroom walls instead of tiles.
The popularity of tiles isn't without reason. They look really good on bathroom walls while providing the necessary protection against water. However, we might find ourselves looking for ideas for bathroom walls instead of tiles. Luckily, bathroom walls materials include a wide range of options, and tiles are just one of them.
In the following, we're going to introduce different bathroom walls materials that you can use as an alternative to tiles.
Bathroom Walls Ideas with Marble
If you're looking for luxurious ideas for bathroom walls, installing stone and particularly marble is one of your best options. Choosing the stone for bathroom walls materials adds an eye-catching depth and visual appeal to your bathroom.
Marble is quite expensive compared to other ideas for bathroom walls instead of tiles, but we need to admit that the end result is fabulous. If you prefer an option with a better price, you can purchase smaller natural stone tiles. They give you real stones for walls at a fraction of the price of larger tiles.
Plywood Panels
In different ideas for bathroom walls instead of tiles, plywood panels offer something more than a tiled-effect wall. These waterproof panels have timeless colors and finishes, nature-inspired designs, cool tones, and subtle hues; making them an elegant choice for your bathroom.
You just need to look at different collections to find boundless possibilities to add outstanding beauty to your home.
Vinyl Wallpaper for Bathroom Walls
All-paper coverings aren't a reliable alternative among bathroom walls materials. Instead, we recommend vinyl wallpapers that are more functional. If you think that vinyl wallpaper ideas for bathroom walls instead of tiles will make your space look like a hotel room, please think again. These wallpapers actually offer sophisticated models today.
Before choosing a wallpaper, make sure the bathroom surface accepts peelable vinyl wallpaper. Vinyl models are less sticky than permanent ones, and won't stick to matte, flat, or rough surfaces. They work best for indirect, ambient moisture; so use them for a surface that covers the lower part of the bathroom walls.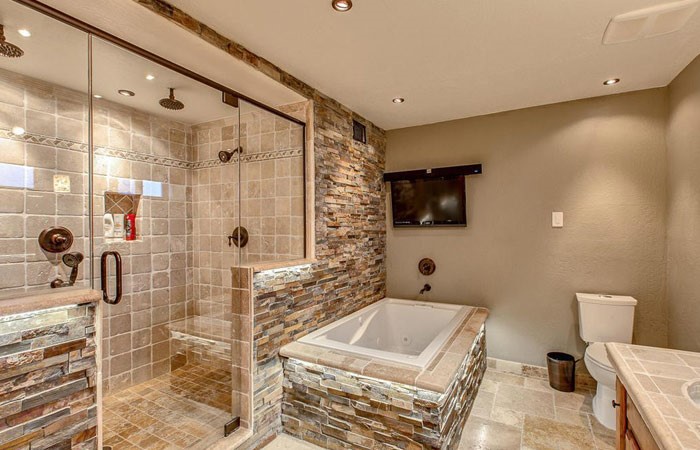 Acrylic Shower Panels
For a smooth and seamless look, we recommend acrylic panels for bathroom walls ideas. These durable panels are reinforced with glass fibers. Thanks to their seamless nature, the chance of water damage and leakage along seam lines and into the bathroom foundation is reduced significantly as well.
There are other reasons to consider acrylic panel ideas for bathroom walls instead of tiles. For example, they are difficult to scratch or crack, and you can almost be sure that no mold will grow on or behind them.
These bathroom walls materials are non-porous and therefore water and stain-resistant. Compared to tiles, acrylic panels offer ideal durability, limitless amounts of shine, and easy installation.
Bathroom Paint (Semi-Gloss or Regular)
You can find many paint ideas for bathroom walls instead of tiles. Bathroom paint is one of them. This regular interior paint has properties that makes it suitable for bathrooms. You just need to avoid flat or matte surface paint, because the paint's pores will trap water.
You can use semi-gloss or a high gloss sheen for bathroom walls to avoid this problem, as the water beads on them. There are also premium paints with mold-killing additives. They allow you to enjoy desirable flatter sheens in your bathroom.
In addition to all of these benefits, the low cost of paint is one of the things that make it a popular option for bathroom walls ideas.
Ideas for Bathroom Walls with PVC Panels
PVC panels are another affordable material for different bathroom walls ideas. These panels are also durable, seamless, and don't let mold grow behind or on them.
Among ideas for bathroom walls instead of tiles, PVC is a convenient way of adding a splash of color and a new feel to your bathroom. These panels may be damaged or cracked over time, but they are super simple and inexpensive to replace. In addition to bathroom walls, they also work well on ceilings because they're light.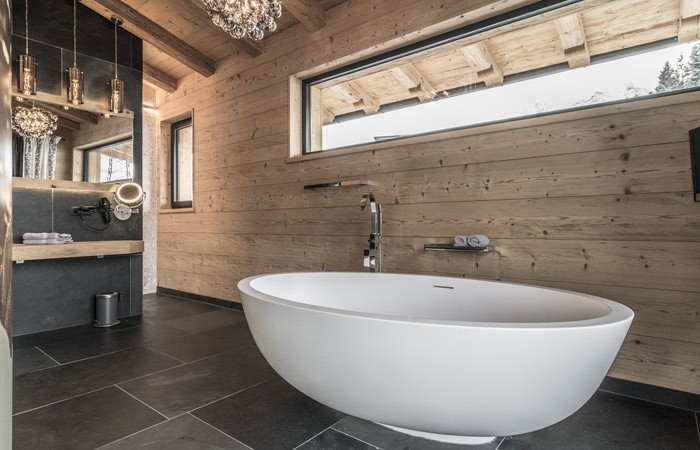 Stone Resin
Not only Stone resin is a great choice in different bathroom walls materials, but it also works perfectly as shower floor tile. Stone resin is incredibly strong, durable, sleek, mold-resistant, and offers a warmer feel on the feet compared to other materials; making it an excellent material for cold winter nights.
So if you live in a colder climate, we recommend using stone resin for this very reason. But be sure to choose a textured stone for the shower tray to prevent slips and injury. Stone resin can last a lifetime for you. It is really worth the investment, considering you won't need to redo your shower.
Beadboard
Beadboard only partially covers the lower half of the wall, which is the most important part when it comes to moisture problems. You can paint beadboards with semi-gloss or glossy paint, which protects the lower parts of the walls against moisture completely.
Like some of the other bathroom walls materials, a headboard gives your bathroom a classic look like traditionally styled bathrooms, beadboard fits perfectly. But for modern bathrooms, it is out of place and kind of awkward.
Buy 8 feet long by 4 feet high beadboard for a more convenient installation. If you install these longboards lengthwise, they lay down quickly with construction glue and finish nails. Also, individual beadboard planks offer a more refined and historically accurate look.
Stainless Steel
It may be odd to see this material among ideas for bathroom walls instead of tiles. However, few options can provide an extremely modern look and feel that stainless steel can. This versatile material can be cut and shaped to fit any size shower. It's also though and offers a truly long-lasting alternative for your bathroom.
Ideally, you should use 28-gauge stainless steel sheets for shower coverings, which must be mounted over a concrete board. Also, make sure all seams are caulked with silicone to prevent leaking and mold growth between and behind the steel panels.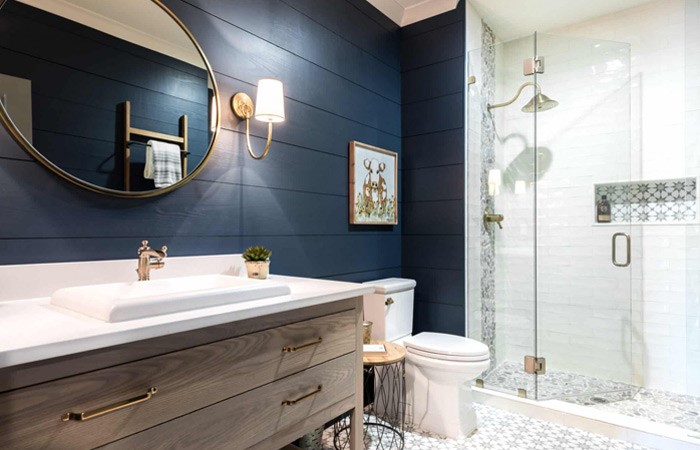 Other Ideas for Bathroom Walls Instead of Tiles
If you want to really get creative with bathroom walls ideas, try combining ceramic or stone tiles with wood, or glass. This fashionable idea makes your bathroom more interesting and unique. If you chose this method, we suggest not to choose tiles that have patterns. This will make the wall coverings compete with each other to capture your attention.
You can even cover the walls with bricks. Bricks are very decorative as bathroom walls materials, but it is better not to overdo it with the surface area.
Then, choose the simplest equipment and accessories in muted tones. If you want your bathroom space to be barely decorated, paint the walls with fungi and moisture-resistant paint. You can also tile the wet areas around the sink, toilet, and bath with warm colors to emphasize comfort (for example).