A small bedroom does not have to be a problem, even (and/or especially) when it comes to bedroom remodel. Even in most compact spaces, you can work on aesthetics from different points of view as well as practicality.
With the right bedroom remodel ideas, it is not only possible but super easy to design a beautiful and functional space. To have a comfortable and well-conditioned space, we have some ideas for you.
Bedroom Remodel Ideas
A mural as a headboard, playing with the tables, a customized wardrobe, built-in furniture, and many more. Check our list of bedroom remodel designs and ideas and you'll wonder which one to choose!
In Gray Tones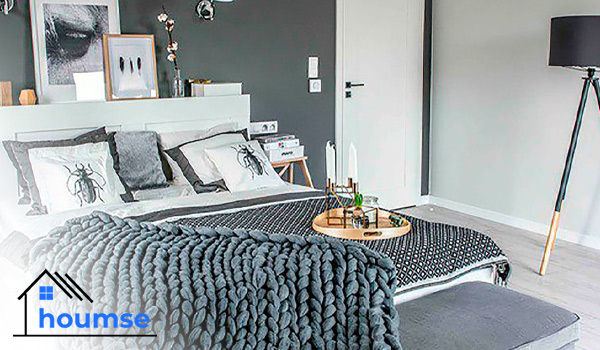 If you decide to paint the bedroom in dark tones, create balance through white accessories and furniture so the space doesn't look smaller.
Take Advantage of The Space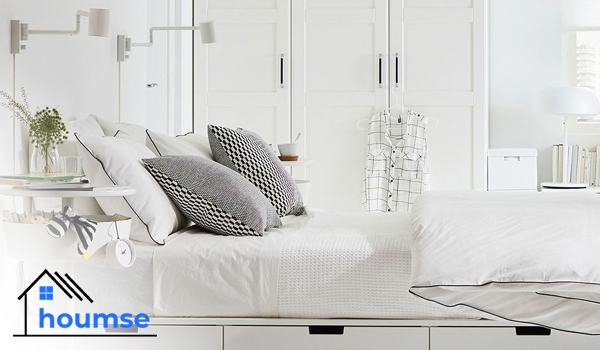 It is essential that you make the most of every available storage corner, for example, with a pop-up trundle bed or by adding several shelves on the walls. Bed frames are also perfect.
Less Is More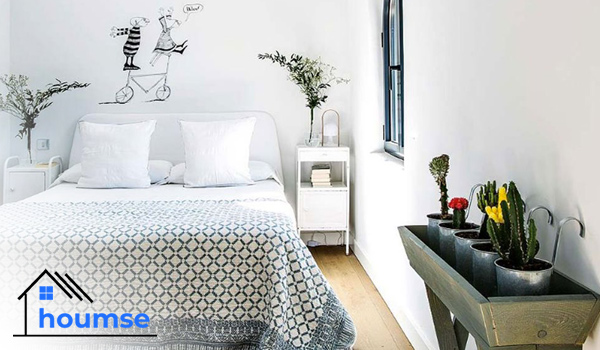 This bedroom is an elegant example of the "less is more" premise. With hardly any furniture in soothing white, its simplicity offers a unique charm and calming vibe. In the front area, there is a wardrobe or dressing room as wee.
In a room full of light through large windows, there are a few bedroom remodel ideas that wouldn't work.
White Furniture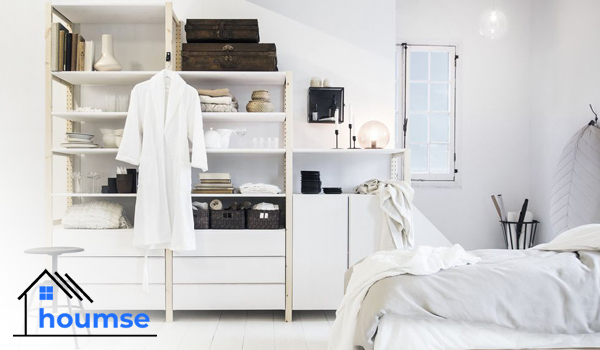 Furniture in dark tones is absolutely attractive, but if the room is dark too, the atmosphere may be too gloomy. Instead, decorate with furniture in white or light natural wood following the Nordic style.
Soft Colors and Natural Materials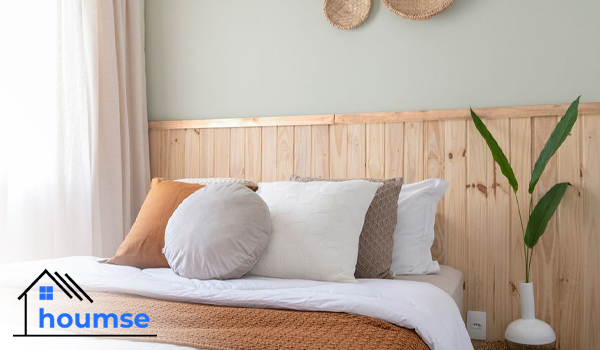 This is an elegant, discreet decor full of nuances depending on the sun and lighting. The range of light and darker tones in this bedroom remodel offers calm and peace, as the white elements and woods (the wooden plinth that serves as a headboard) harmonize seamlessly together.
Natural Fiber Furniture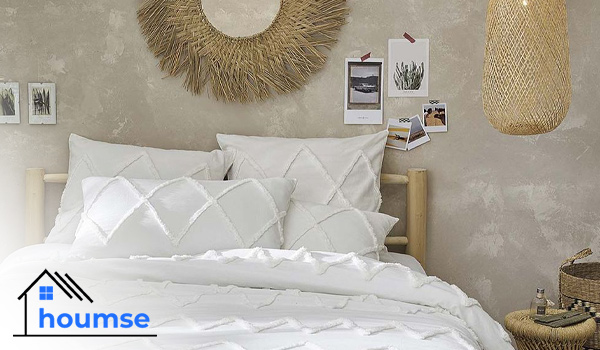 Forget about classic bedside tables and place a stool next to the bed for the essentials. In this design, hanging lamps save you space. Fiber and wood bring a very cozy touch to the room as well.
Blue and White Bedroom Remodel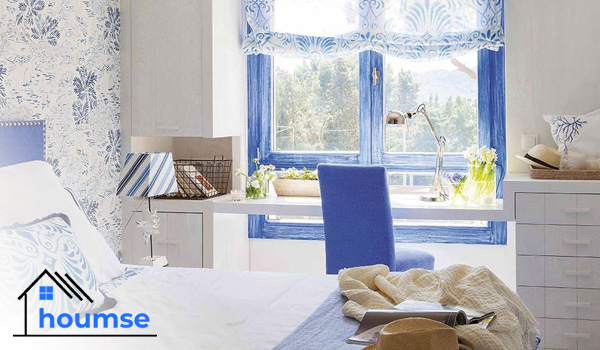 This combination has taken the room decor to the next level with its fascinating relaxing harmony. A very vivid indigo blue shines on the headboard, on the chair upholstery, and on the window carpentry.
The combo is repeated in the bedding. However, the white dominates over it to achieve a balanced environment. The printed textiles -only in the blinds and the cushion- bring a subtle movement to the space while their pattern does not overpower and tire the eyes because of the white background.
In addition to all of these inspiring bedroom remodel ideas, the light fabric of the blinds has been a success to dress the window in an informal way, as well as decorating the desk and the top of the drawer with very decisive touches including fresh flowers and baskets of "random" stuff.
Ultimate Calmness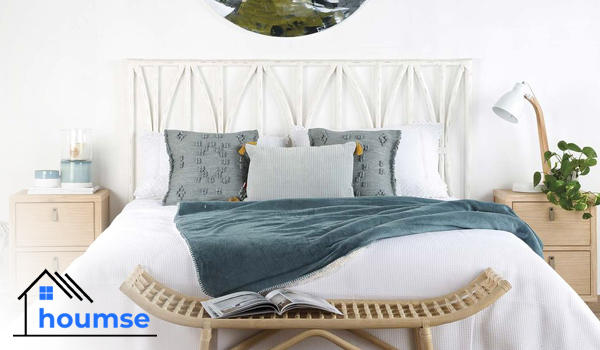 A light headboard hardly stands out or captures attention, so the bedroom will seem more spacious. You can add color details in the bedding and let the warm textiles show off the much-needed comfort in the bedroom.
Few Pieces and Accessories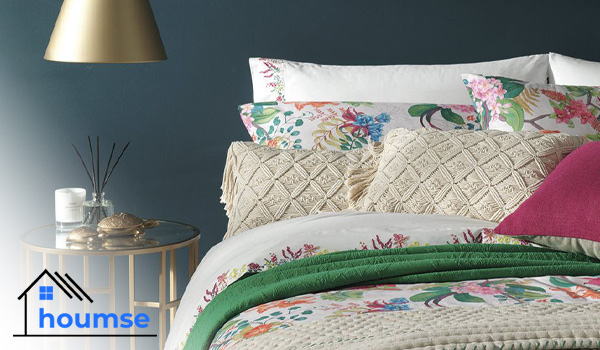 For your bedroom remodel, you may want to focus on the basic pieces you need: a bed, nightstand, chest of drawers, and a small lamp. And for the rest of the items and accessories, we recommend reducing them as much as possible.
But be careful here, as removing all the decorative details can make the room feel cold and impersonal. Also, do not underestimate the space under the bed. With the right boxes, it can become a perfect storage area for clothes from other seasons.
Gold metal and glass side table, hanging light fixture, rod diffuser, scented candle in Granada glass, ceiling lamp, embroidered cotton sheet set, gorgeous duvet cover set, and quilt. Everything for a superb bedroom remodel.
Auxiliary Furniture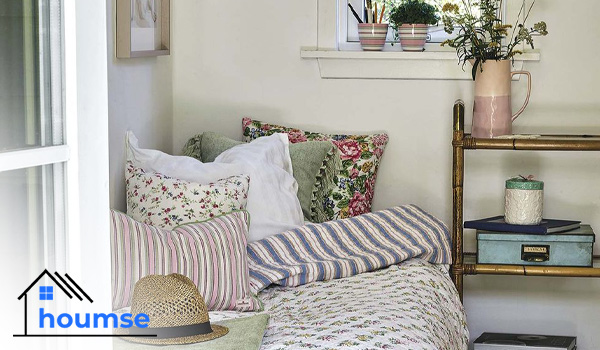 When space is scarce in the room, it is a smart idea to avoid bulky furniture that will only create an overwhelming feeling. An open cane cabinet with several shelves is the perfect decorative complement, light with practical storage space.
With so many bedroom remodel ideas, the decoration is something very important and you may not be clear about it. In this case, go with a simple base: a bed without a headboard, plus basic elements.
Then add bedding with an overlay of textiles as a decorative center of the space. A nice touch that, in addition, allows you to renew it every season with zero effort.
Bedroom Remodel Ideas with Symmetrical Elements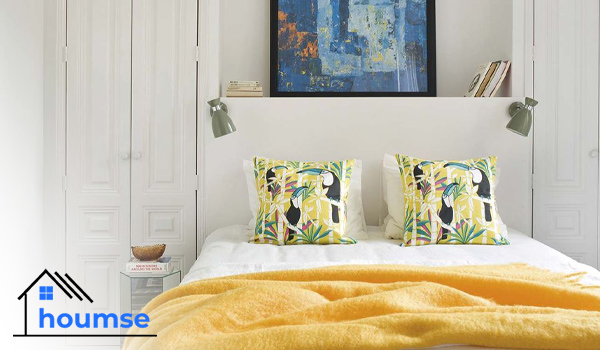 The beautiful symmetry in this bedroom acts as a decorative base for the entire space. The identical wardrobes on both sides define the exact location of the bed, cushions, and the reading sconces add to this sense of order. However, you can see that the symmetry is somewhat broken with a central square and a single table, creating a composition of 10.
The neat white dominates the room while allowing you to play with different elements as pops of color. This is how demolition doors of cabinets, hydraulic tile floors, and striking tropical print cushions coexist wonderfully in a bedroom remodel.
Light, Plants, and Colors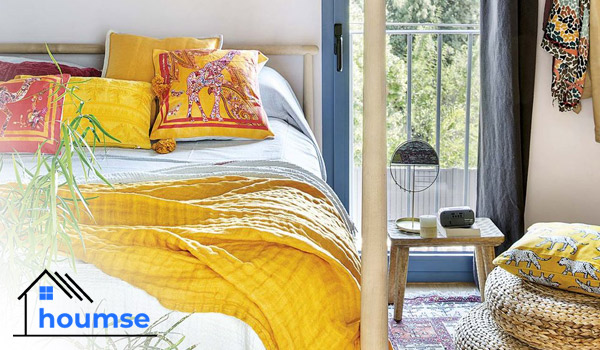 What is your style? Are you looking for a casual and comfortable look for your home too? Then maybe you want to try untreated wood and vegetable fibers; they will fit perfectly in your bedroom.
This environment, both attractive and inspiring, features a four-poster bed made of natural wood and some stacked fiber poufs (which you can easily find in IKEA). The plants also occupy a negligible place at the foot of the bed and are rolled up in the canopy, creating a wonderfully fresh and bohemian touch.
The symbology of yellow speaks to us of happiness, optimism, and joy, fantastic sensations to integrate into bedroom remodel ideas, as long as it does not get out of hand. Some ethnic print pillows and a plain bedspread are the finishing touches.
Light Furniture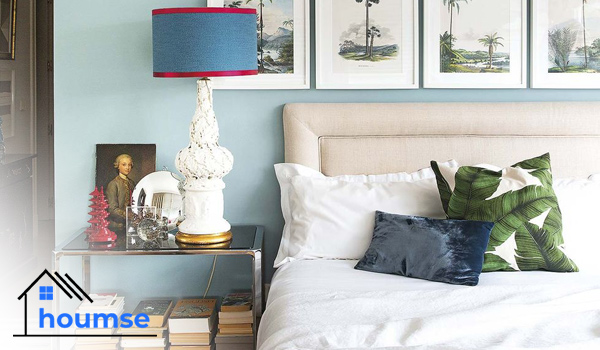 The quality of relaxation and rest greatly depends on choosing the correct color for bedroom remodel. In this case, the range of greens and blues is played on a base in raw tones. A duo of positive qualities that leads to harmony and tranquility. What more could you ask for in an area mostly dedicated to resting?
And finally, a charming composition of framed prints and matching cushions. If you are a constant reader, one of those who still advocate paper books, it will not hurt to include a table where you can store your copies. In such designs, an old cart serves as an impromptu bookstore beautifully.
Simple and Natural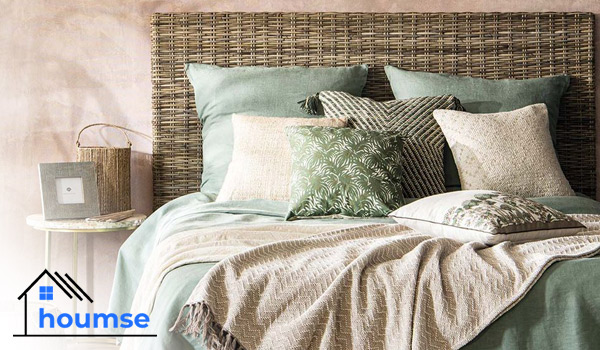 The natural decoration is trending among bedroom remodel designs and ideas. Create your particular oasis by mixing fiber materials with green textiles. Find a wicker headboard and a decorative reed fan and nothing more will be needed.
Black & White Bedroom Remodel Designs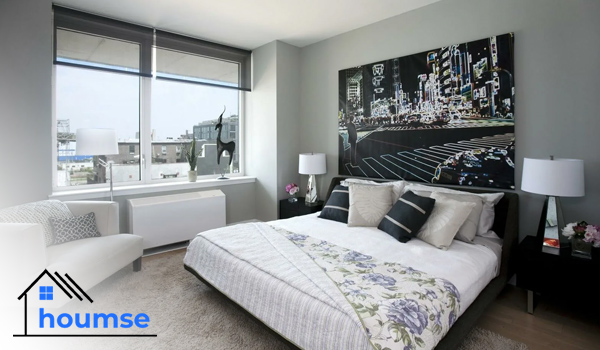 When white is predominant, don't be afraid to include black as they have done in this pretty remodel. The distribution is perfect, and all the spaces are used. Black and white have long been used in decoration, mind the balance and the result will be nothing less than perfect.
Chromatic Choices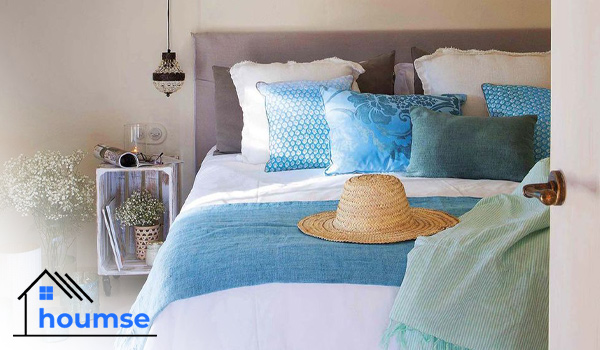 In this design, neutral walls have allowed using textiles with lots of colors while avoiding gaudy colors. Another tip: do not include more than three colors and in different proportions. The ideal is 60, 30, and 10. Energizing and %100 natural.
This bedroom remodel radiates such a class and all thanks to the textiles used. The white bedspread is filled with color by including plain and patterned accessories in turquoise blue and emerald green: from the cushions to the blankets.
With them, the bed is not formal and serious anymore. And the chosen fabrics, with different textures, offer rich visual and tactile sensations.
Stamped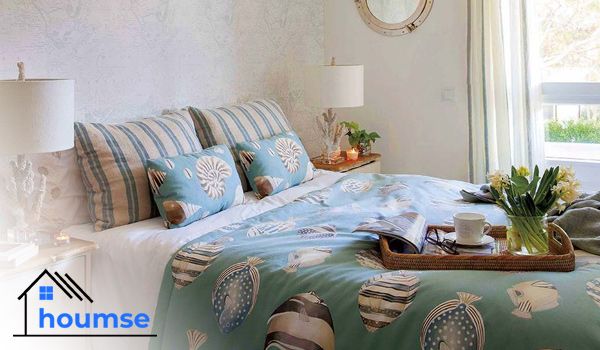 Dressing the bed with striking patterned textiles can be a separate category in bedroom remodel ideas. As they can make any room fresher in one simple step.
In this Image, this is done with silhouetted motifs on the quilt: fish that seem to swim on the bottom of the sea. The bedding mixes an intense bluish-green with muted sand tones, which is quite successful in creating a natural decor where there are vegetable fibers.
With them, the change after the bedroom remodel is more significant by mixing striped designs with others with the same pattern as the quilt. This arrangement adds harmony and plays with the same colors in the room.
Elegant Tones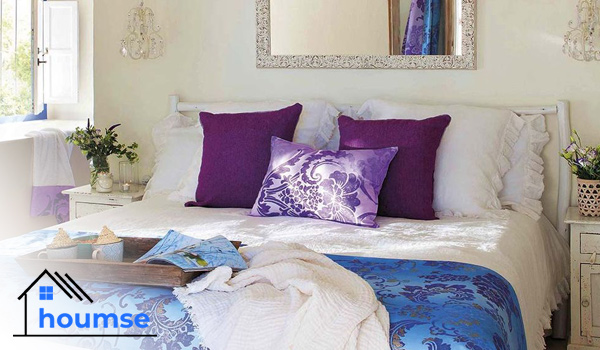 Playing with textiles in refined colors and a few very chic prints is enough to make a bedroom look a bit sophisticated. This is exactly what you see in this project. The bed is elegant due to its new textile accessories: to further dress the headboard, a composition of cushions in a dark and light purple.
And at the foot of the bed, a light blue plaid gracefully adds a showy cape that captures all the attention. Baroque prints are subtle. Using these textiles is balanced to prevent the bedroom look too classic in style.
In this bedroom remodel, they are only used on the bed and to compensate for other accessories. As you can see, the window has been left without curtains too. A perfect game of balance.
Effortless Bedroom Remodel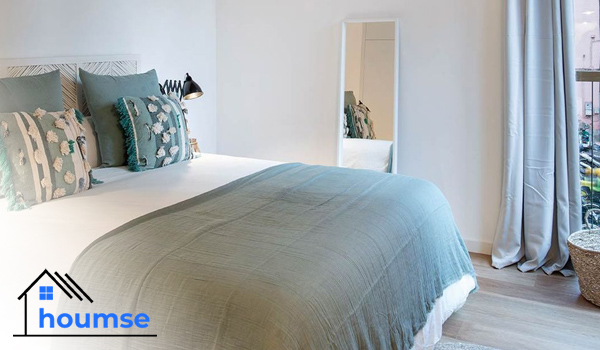 This is definitely one of the bedroom remodel ideas on a budget. As evident by the image, sometimes the room and its elements stand out precisely because of their discreet character.
This is the case of a headboard made of wood and wicker, extendable metal sconces, and linen curtains, which decorate the space with style. Simple details that manage to give the space an original touch with minimum effort and expense.
Practical Solutions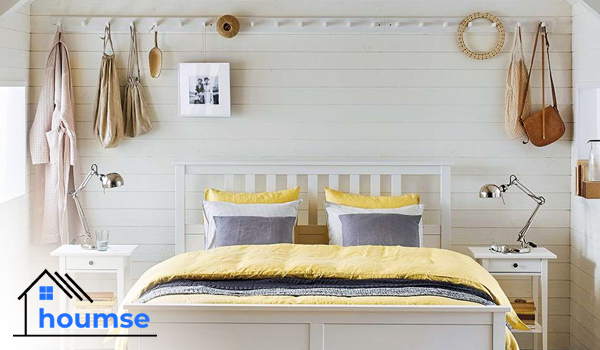 With all the creative products out there, small bedroom remodel has never been so easy. If you don't have much space, this bar on the headboard wall, as a coat rack, will be an ideal solution. Another product that you can easily find in, say, IKEA.
Pastel Tones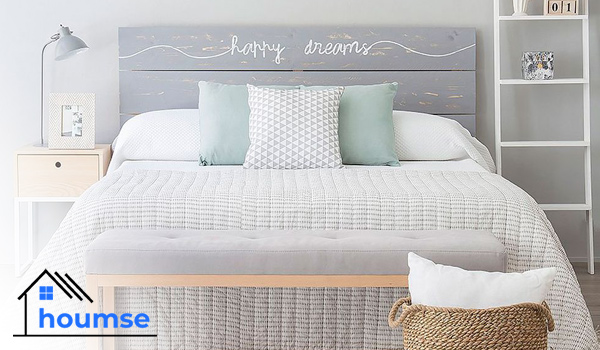 Only a few bedroom remodel ideas offer such visual grandeur. Pastel tones add a unique lightness to small and large rooms like a master, perfect for this space's mission. If Nordic style interests you, this inspiration may be all that you are looking for.
Wall Storage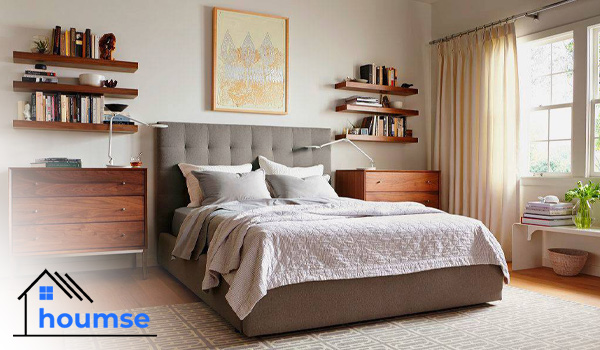 If there is no room for auxiliary furniture, use the walls for storage with floating shelves. They serve as a headboard just as they have done in this one.
Wallpaper Headboard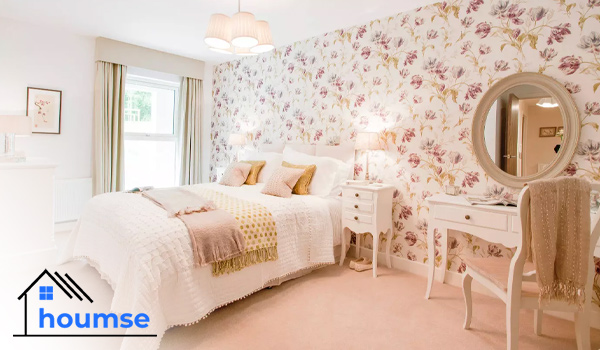 Sometimes all you need is to make a powerful statement in your bedroom. Is a nice, patterned wallpaper. Choosing only the wall behind the bed, will not take the attention away from the rest of the room and spoil your rest time. This bedroom remodel idea also works for small spaces, as patterned wallpaper can give it depth.
You can even design the place with no more furniture than a bed and a floor lamp. A wallpapered wall with a cheerful design will beautifully fill the room.
Sliding Doors for Small Bedroom Remodel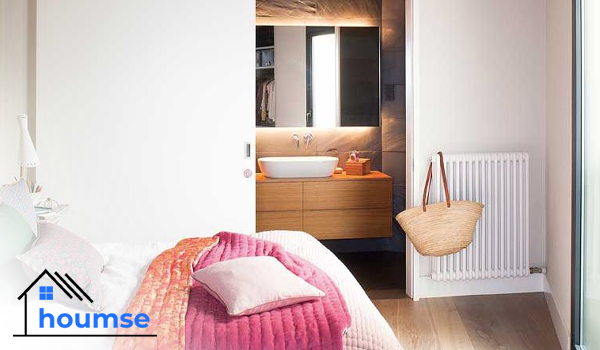 A simple solution to make the most of the space is replacing common swing doors with sliding ones. It may require some effort and an expert's help, but it would be completely worth it.
And for their finish, opt for finishes that have the same tone as the wall. And if you're thinking about glass sliding doors, choose light-colored ones as well. There are even some models for curved walls or ones that accommodate cables.
Multifunction Headboard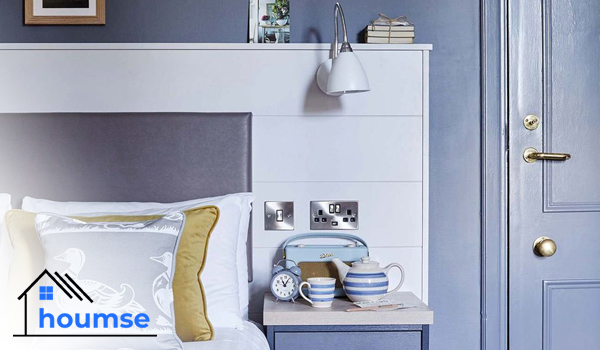 You may want to consider a multifunction headboard when remodeling your bedroom. Look at this one, for example, it integrates reading lamps, and plugs, and serves as a shelf for books and picture frames. It is also a contrasting element that enhances the bed, without barely extending from the wall.
Before Implementing Bedroom Remodel Ideas
Before starting your project, it is better to keep three things in your mind:
Organization & Bedroom Remodel
Order and organization in space are fundamental principles. For this, it is important to organize the bedroom so that it is always in a good condition. The goal is that the chosen bedroom remodel idea does not make the room appear smaller than it is.
For this, most experts recommend using functional furniture. A particular case is the drawers under the bed since they do not take up any space and provide practical storage.
On the other hand, we should note that pop-up trundle beds are also ideal for small bedroom remodel ideas. The chest under the bed helps in storing the bedding and saves a lot of space. A very wise choice to declutter a small room.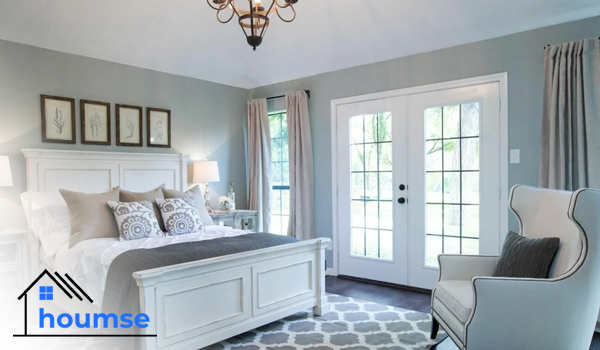 Colors For (Small) Bedroom Remodel
White is the default color for any small space, but you don't have to limit yourself to this color only. Earth tones (beige, terracotta), gray, or pastel are good options too. Of course, the ceiling should always be white. Without dark or strident colors, the space will not look smaller, making this approach perfect for decorating teens' bedroom remodel.
Another good option for white bedrooms is adding color using bedding or cushions or small furniture pieces. This way you can see if you want to create harmony between the nightstand and the bed or if you want to make a decorative game between the carpet and the curtains.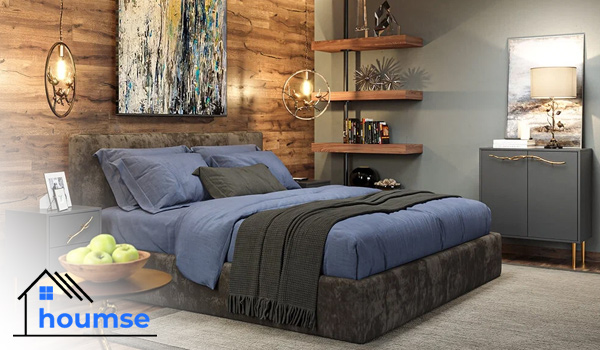 Functional Furniture
When considering furniture for bedroom remodel ideas, think carefully about what you need and look for the ones that you are really going to use. A particular case is shoe cabinets, which fall into the category of storage for the bedroom. A dressing table may be a very nice touch, but if you can do your beauty routine in the bathroom, don't introduce it to your bedroom remodel.
Or, if you already have a good built-in wardrobe, you may not need to place a (for example) chest of drawers in the space. For small bedrooms, furniture should be simple, basic, and functional. They should be able to adapt to the space as well.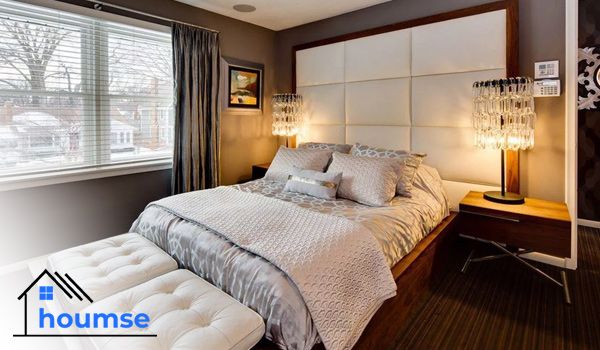 Ready for Bedroom Remodel?
Now that you have a more precise knowledge of the possibilities that exist, you are ready to make the most of space. Deep down, we all know that our bedroom is the best place for relaxing and disconnecting at the end of the day; therefore, it is important to decorate them with great care.
Let us know which bedroom remodel ideas you found most intriguing, and what you ultimately did with the place. Happy remodeling!