Watching more people searching for the best flooring options, weighing pros and cons carefully, and seeking comments and experiences really warm our hearts. Nevertheless, no matter the types of flooring, this is where people have the most interaction with their home, and with their second heart!
Additionally, the flooring is the base of one's home decoration, providing practicality as well as displaying personal taste. It covers a large area (basically all of your home), so it is also a good idea to find the best flooring for house according to one's budget as well.
Here are the 16 popular types of flooring materials that you can choose from:
Concrete Flooring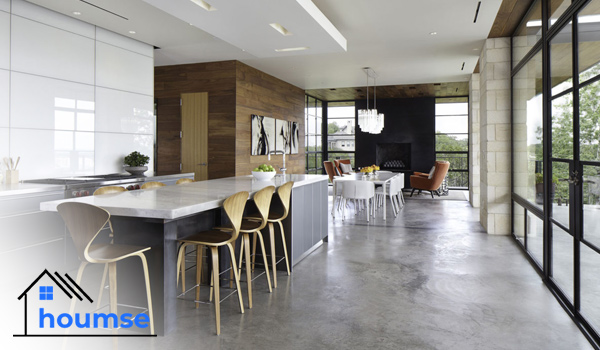 Many people still reject this material as they assume this can never be one of the best floorings for your feet. Nonetheless, concrete flooring is becoming more and more popular by the day. It is even one of the most popular floorings in new homes with modern or minimalistic designs.
Concrete flooring is versatile, allows various decoration styles, and offer a unique texture to any environment. Depending on the design style, there are beautiful finishes for concrete flooring options including oxidized and polished. They can even be textured.
Among available options, concrete may be the most durable flooring, providing a hard surface for both interiors and exteriors. Apart from notable strength, concrete is also one of the best flooring ideas due to economic reasons. Not only it is inexpensive, but it is also easy to pour and 'install'.
Still feel unsure about concrete being one of the best floorings for house? Simply picture a wooden ceiling with concrete flooring and light furniture. Now tell us what other combination can bring such sensation, uniqueness, and elegance to an environment. We will wait!
Porcelain and Ceramic Tile Flooring Options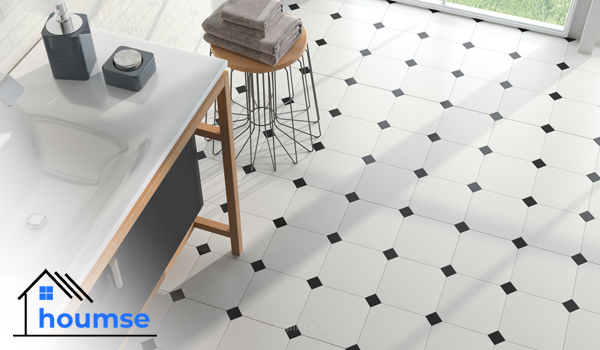 Tiles are commonly considered the best flooring for kitchen and bathroom, when in fact they fit in any area of our house. There are countless types, patterns, and colors that will allow designing an original, distinguished space with a fresh feel to it. So much so that if you feel this is the right choice, you may want to look up the best flooring tiles.
they are easy to maintain and clean. There are thousands of products to maintain the shine, you can sweep, vacuum, mop, etc. depending on the cleaning material available in the home. It hardly stains permanently, moisture cannot damage it, and unlike types of flooring (discussed in the following), there offer a wide range of prices.
The finish of ceramic tiles reflects light and makes the space look larger than it actually is. It is among the most durable flooring options too. However, is highly likely to break if something very heavy falls on it. They keep the house cool in summer too, which can become a challenge in the winter!
Tip: New types of flooring with two-layer ceramic floors are an economical option resistant to traffic and wear due to their glazed upper layer.
Natural Wood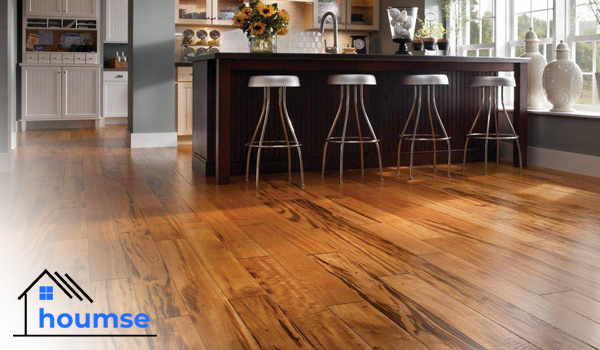 Although expensive with challenging maintenance, natural wood is still one of the best floorings for houses. It is characterized by durability and by transmitting warmth to impersonal and cold environments. These flooring options can be used for almost any room in the house.
They offer elegant, classic, rustic, and modern finishes, perfect for various decorations and tastes. But, before installing, make sure to consider the maintenance since it determines its durability, quality, and ROI in the future.
Linoleum Flooring for Home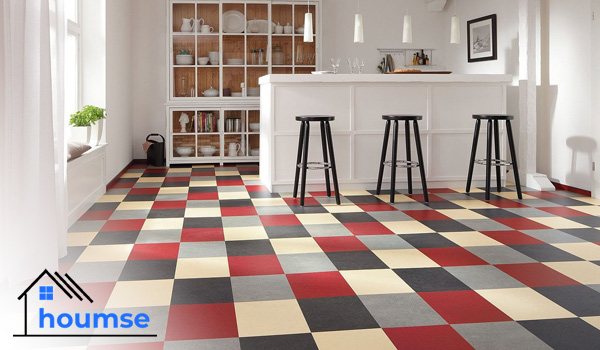 Linoleum floors are a good option for those who are looking for the best flooring for the money! Allowing to renew the home appearance when the budget is tight.
These types of flooring are glued to the surface with adhesives. That means you can find them in various sizes and measurements, making their installation more convenient and functional for any room. It is also one of the best flooring materials when it comes to easy maintenance.
The pros of linoleum floorings do not end there. This alternative handles heavy traffic very well and it is considered an environmentally friendly and biodegradable material since it is made from natural products such as linseed oil and cork.
Although economical, resistant (except against sharp objects falling), and easy to clean, it has some drawbacks too. Linoleum really is not one of the best flooring ideas in new, high-end homes as it lacks the same aesthetic as others.
However, thanks to the incredible variety of colors and designs, you will surely find a spectacular option and be able to create a modern, beautiful decor even when the visual appeal is important.
Oriented Strand Board (OSB)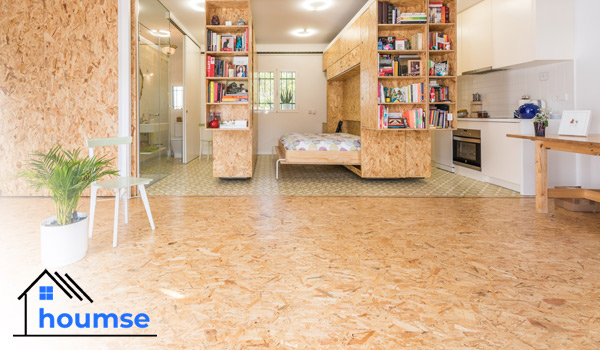 The OSB is a product derived from wood, made from wood shavings held together by synthetic glue. The wood chips in these types of flooring are arranged in perfectly differentiated layers: the outer layers are generally oriented in a longitudinal direction while the inner layers' chips are oriented perpendicular to the length of the board, creating original and attractive patterns.
A disadvantage that may make someone omit it from the best flooring materials is its low resistance to water because if it gets wet it can swell. So, make sure to hire professionals for the correct installation of the layers for a longer lifespan.
Parquet Flooring Options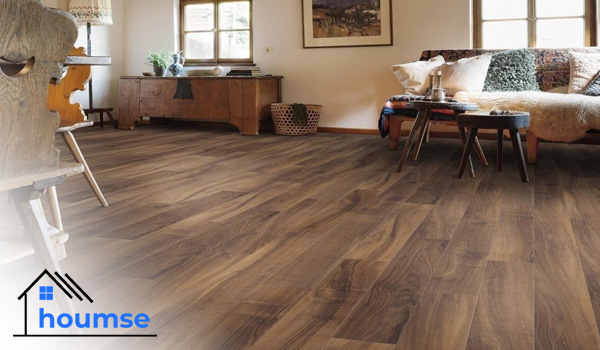 A parquet consists of wooden boards placed next to each other forming a pattern. And since the pieces can have different sizes and tones, it varies in design. However, all these types of flooring maintain a geometric design, and all offer a nice warmth to the space.
Parquet may be the best flooring for house if you want your home to look clean and bright. However, you should also be willing to take the time to properly polish it as this material requires specific care and constant maintenance to maintain its perfect condition. They are also not exactly the best flooring for dogs since they are sensitive to termites, bumps, and scratches.
The good news is that parquet flooring options are easily repairable. And being made of wood, your space will look almost as elegant as when it had wooden flooring, at a lower price.
Floating Types of Flooring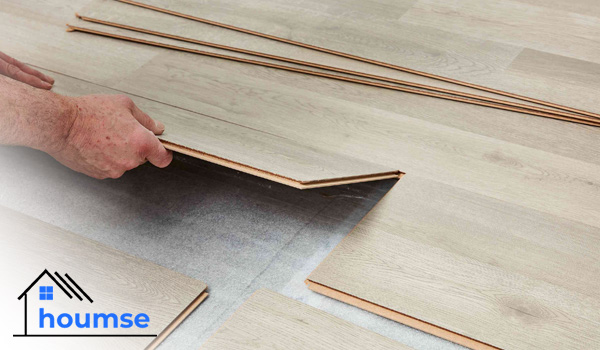 This is one of the best flooring ideas to cover the floor of your house or apartment if you are thinking of changing it. Why? Simple. It offers the easiest installation (no nails, screws, or glue needed), cleaning, and maintenance. Special dust-trapping cloths and polishes keep it new.
It can be purchased at any construction store and installed by almost anyone. Being a smooth surface, they are also one of the best floorings for your feet in addition to being incredibly simple to clean.
However, keep in mind that it is a bit expensive. Additionally, although you can dry it easily when water is poured on it if moisture remains on the surface for a long time, it could be damaged. Be careful with the polish too since its accumulation could create a layer of wax that is difficult to remove.
Some examples of floating floorings include:
Engineered wood flooring
Laminate flooring options
Luxury vinyl flooring options (LVF)
All warm, resistant, durable, thermal, acoustic, and of course somewhat expensive options.
Laminate Flooring Options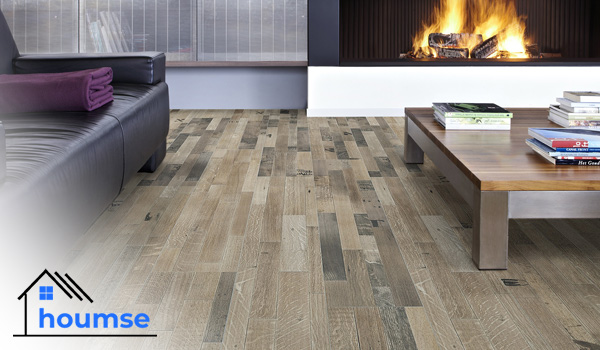 Laminate is another best flooring for the money made from a particleboard wood covered by a photo (wood or tile for example) under a plastic protective layer.
Laminate flooring options are very DIY-friendly, offers a multitude of texture and colors, inexpensive, eco-friendly, and are easy to maintain. On the other hand, they are also easily dented or cut, darken or turn yellowish if exposed to sunlight, and do not handle moisture very well.
Vinyl Flooring Options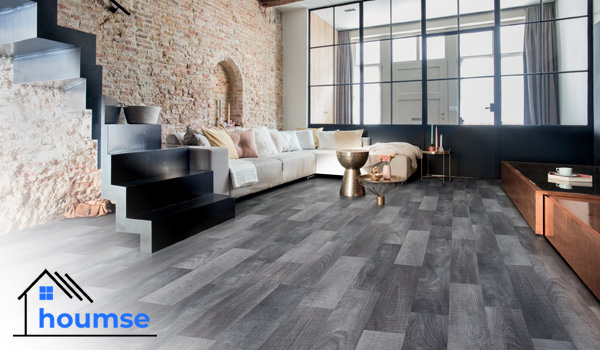 Made from a layer of PVC plastic over a layer of felt, the flexible vinyl is softer underfoot than wood or tile. Cushioned vinyl has a thin layer of foam as well, making it one of the best floorings for your feet and to walk on. There are also thicker vinyl flooring options with textured surfaces to resemble wood or stone.
This material is one of the best floorings for kitchen, bathroom, and basement. It is water- and fade-resistant, easy to maintain, DIY-friendly, and provides many design choices. Unfortunately, it costs more than laminate with a lower ROI compared to wood.
Rugs and Carpets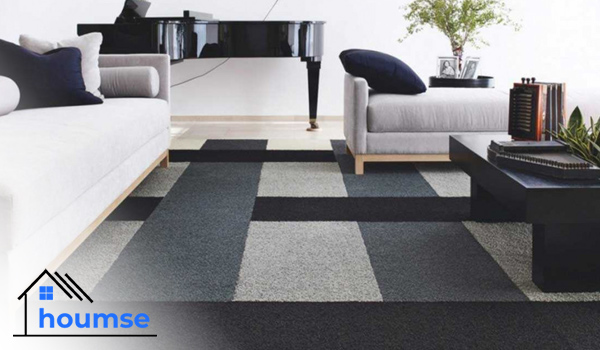 Even if they are one of the new types of flooring, they are definitely the most common and the best flooring material for numerous people around the globe. The greatest benefit of such options is that they keep spaces warm, and they are pleasant to the touch.
The cost varies depending on the type and the size of carpet you choose. But in general, they cost less compared to floating floors and parquet.
Although arguably the best flooring for your feet, stains are very difficult to remove, and cleaning can be more expensive. Using a vacuum cleaner is simple enough (and sometimes exhausting!), but when stains from liquids are involved, there is no going back. And you must wash it with a special solution (and maybe equipment) and let it dry in the open air.
Carpeted floors are not the best flooring for kitchen or bathroom since humidity spoils them.
High-End Flooring Options with Natural Stone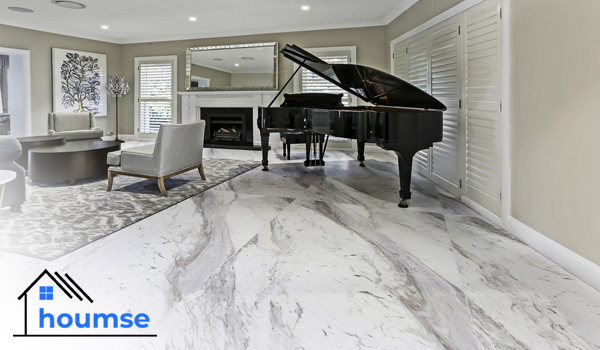 It is one of the most resistant and most durable floorings. Stone is usually used for patios, terraces, and balconies, as well as kitchens and bathrooms. It is not easy to install and can be expensive. They are usually cut to size based on orders.
In the market, you can find these flooring options in standardized plates and smaller blocks, in different looks from rustic matt to bright polished. Here are some of the most popular flooring in new homes using natural stone:
Marble: No natural stone has the luxury of marble. Marble is the best flooring material for interiors of large sizes and homes with a noble, sober style. It is elegant and cold. They can be installed in blocks, cut tiles, or in small pieces such as cobblestone, joined by pastinas. Beware that because of its texture, marble can be slippery when wet.
Granite: Another gorgeous and expensive option in the natural stone category that is generally installed in tiles or thin blocks, which makes it brittle. Granite can take on a matte finish, providing a very elegant, eye-catching look.
Other Flooring Options and Ideas
Engineered Wood: A common option with a thin veneer of natural wood on top (to resemble natural wood) and layers of less expensive plywood underneath.
Cork: One of the natural types of flooring made from a cork oak tree's bark that with amazing fire resistance and sound-blocking features.
Terrazzo: A composite made of natural stone chips and resin, therefore one of the best flooring materials in terms of durability.
Leather: Perfect for distinguishing from your place with excellent resistance to traffic (and less resistance against water).
Bamboo: A more budget- and eco-friendly real wood option.
Best Types of Flooring for Each Space (Quick Guide)
At the End Of the article, let us have an overview on what is the best flooring material for specific uses:
What Is the Best Flooring for Living Room?
Carpet for warmth and a cost room, hardwood for a rustic, high-end look, and laminate for modern flooring enthusiasts.
What Is the Best Flooring for Kitchen and Bathroom?
Tiles are the ultimate classic and durable choice for these spaces.
What Is the Best Flooring for Basement?
Vinyl (in plank or tile form) made of PVC makes a great flooring that is beautiful, durable, and waterproof at the same time!
What Is the Best Flooring for Underfloor Heating?
The best flooring options for underfloor heating are tile and stone thanks to their high thermal conductivity.
What Is the Best Flooring for the Money?
Sheet vinyl, linoleum, laminate, carpet, and polished concrete are among the best yet inexpensive available alternatives.
What Is the Best Flooring for Your Feet?
In addition to carpet, cork and bamboo are very comfortable.
What Is the Best Flooring for Dogs, Cats, and Pets?
Tile (of course), luxury vinyl, laminate, engineered hardwood, bamboo, and cork are recommended options for dog owners.
What Are the Most Durable Floorings?
Considering all aspects (and obvious choices aside), vinyl plank, porcelain tile, hardwood, laminate, bamboo, and sheet vinyl are quite reliable