On many occasions, cabinet refacing is all you need to remodel your kitchen and change its look entirely. And by kitchen cabinet refacing, we mean the process of removing the fronts of doors and drawers and applying a new veneer over their surface. Replacing the hinges, handles, and drawer pulls is somewhat optional.
If you have perfectly "healthy" cabinets, you do not need to tear them all down. Instead, you may want to try cabinet restoration methods like refacing which are both quicker and cheaper. However, before starting your DIY project of refacing cabinet doors or contacting professionals, we invite you to take a closer look at your options, the steps ahead, as well as pros and cons.
Cabinet Refacing vs. Cabinet Refinishing
Before discussing how to reface cabinets or what materials you can consider, let us make the difference between these terms.
Cabinet refacing or resurfacing (or restoration), as mentioned, is the process of resurfacing the existing cabinet framework with laminate or wood veneer replacement material. So, the current cabinet boxes are intact, but all the doors and drawer fronts are replaced with new ones.
This process allows you to cover any problem that the cabinets have while giving them a polished appearance by updating the wood, color, or door style. Replacing cabinet side panels, face frames, and (crown) moldings to match everything as well as hardware can be a part of kitchen cabinet refacing too.
However, cabinet refinishing refers to simply changing the color or the finish. In this process, the color or the finish is removed or by hand sanding or stripped chemically from the wood, and then a new paint or stain is applied. Therefore, there is no need to change or remove any components of the existing cabinetry.
How to Decide Then?
if you have laminate or thermofoil cabinets, we do not recommend cabinet refinishing, although it is less expensive. Because you cannot sand or strip such materials. Additionally, paint does not stick on them.
If you have wood cabinets, both options are available. If you prefer a new style cabinet or the kitchen's layout does not excite you anymore, a kitchen cabinet remodel with resurfacing would be an excellent choice. With that in mind, let us see how this kitchen cabinet makeover method works.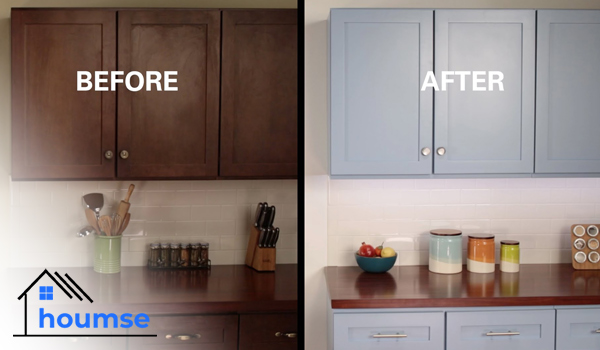 Kitchen Cabinet Refacing: Getting to Know the Main Steps
Both professionals and experienced DIYers follow the overall same instructions for changing the cabinetry surfaces:
First, cabinet doors, drawers, and their fronts are removed. The rest of the boxes are kept intact. Then, the front portions are covered using a natural wood veneer or rigid thermofoil or RTF, which is a melamine-based product. The sides are skinned with laminate or wood veneer too. In this step of refacing cabinet doors, the old hinges are reused (if in good shape) or replaced by new ones.
After that, new doors and drawer fronts, handles, drawer pulls, and other fixtures are installed. Similar to the hinges, the current hardware may be reused if they have no problem. Other optional accessories like crown molding, glass panels, or lighting are installed in this step too.
Professionals can start and finish kitchen cabinet refacing in a couple of days or one to two days more if you have a spacious kitchen with a lot of cabinetries. They start the kitchen refacing by removing hardware, doors, and drawer fronts. Since this step does not require much time, they begin veneering on the same day.
In the next day or two, they continue and finish the process, installing new doors, drawer fronts, and hardware. And after making the final adjustments, your kitchen cabinet makeover is done.
If you are considering DIYing using a veneer kit containing wood veneers and application materials, we recommend giving yourself at least a week.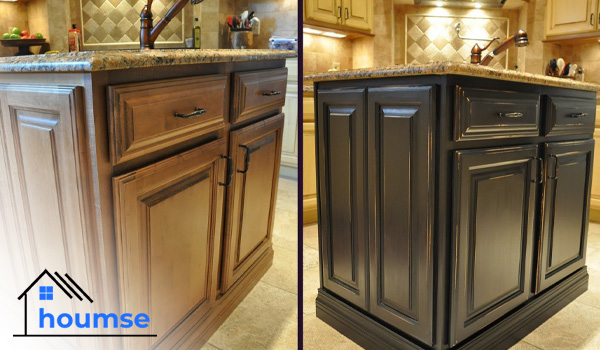 What You Need to Know Before Refacing Cabinet Doors
In general, you need to consider two main things for any type of kitchen refacing: budget and pros and cons. However, in the case of cabinet restoration, there is one more matter to consider: are the cabinets in the state suitable for resurfacing? Let us discuss all three in more detail.
Cabinets Conditions
It does not matter if you have old or new cabinets. For refacing cabinet doors, what you need is a sturdy construction that accepts new veneer and doors. Good cabinets that can be candidates for resurfacing have certain features.
For example, they have sturdy box construction made of plywood or MDF panels with solid surfaces. The good condition and smoothness allow veneers to adhere properly. Solid hardwood face frames, which accept veneers and anchor new doors successfully, are another green light.
Internal hardware should be in good shape too. If drawer tracks or internal storage elements are not smooth, or cabinets lack shelving or storage accessories, you may want to fix them before kitchen cabinet refacing.
Costs and Expenses
Kitchen cabinet remodel with resurfacing, although more expensive than cabinet refinishing, costs less than custom cabinet replacement. But you should not consider it an especially cheap option, as it simply reduces the costs by 30 to 50 percent.
In case you are not an amateur DIYer, you can count on cost savings. Still, the total cost could range from a couple of thousand dollars to even 1000 dollars, depending on the materials and the size of the kitchen.
Pros and Cons
Although kitchen cabinet refacing allows you to keep the kitchen layout (if you are content with it), provides you with numerous style options for both laminate and natural wood veneers, costs less than total replacement as well as being an eco-friendly choice, it has some disadvantages as well.
For example, if you choose a wood veneer, since they may require finishing, you need to think about the extra steps of staining and varnishing. In addition, refacing cabinet doors does not allow any updates in the kitchen's layout, countertop space, or box interiors.
Another drawback is the fact that cabinet restoration and replacing the surface is challenging as a DIY project. While installing cabinet doors and drawer fronts are convenient, veneering is something that only patient, skilled DIYers can successfully do.
Eventually, as mentioned earlier, kitchen refacing may turn into a really expensive choice. Adding new fronts, hardware, other accessories, etc. can make you think that installing new off-the-shelf stock cabinets is cheaper, and you would not be completely wrong.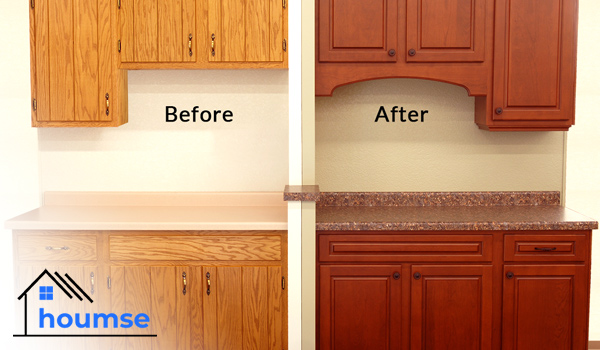 How to Reface Cabinets
The overall process of refacing kitchen cabinets is quite easy:
Remove the doors and drawers.
Cover the front edges of the cabinets with peel-and-stick wood veneer.
Hang the new doors with easy-to-adjust and -install cup hinges.
Attach new drawer fronts to existing drawers.
Replace moldings and install new hardware.
In some sense, rather than how to reface cabinets, it is how you plan for it and approach other details (like measuring and sanding the cabinets correctly, where do you choose to special-order the new doors and drawers, etc.) that ensure a professional result.
Do you have any experience regarding kitchen cabinet refacing? Do you have any advice for other DIYers? Is there any other matter around this subject that you would like us to discuss in more detail? Let us know in the comments.