A lot of interaction happens between kitchen countertops and homeowners, which makes the kitchen counter top a part of the kitchen, AKA the heart of the house, that should elevate the aesthetics, add function to the space, be easy to maintain and clean, and preferably economical simultaneously.
Scroll through to see the available types of countertops and decide which one would be the best material for your kitchen.
Types of Countertops
You probably already have some materials as the best kitchen countertops in mind such as granite, quartz, or marble. Although, today there are so many diverse materials out there that we suggest knowing a little bit more about countertop options before deciding anything.
Depending on the usage, budget, etc. you may find more exciting kitchen countertops in the following list!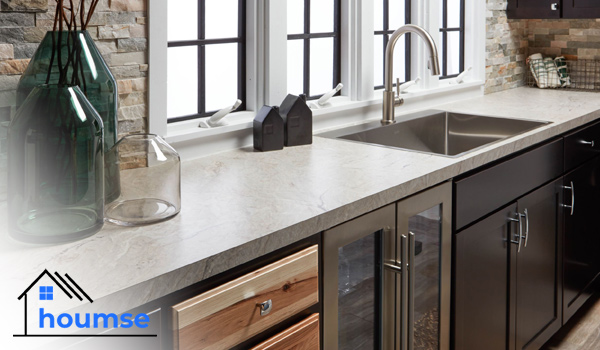 Laminate Countertops
These countertops are made from a thin layer of plastic laminate material that covers a core of particleboard or MDF in hundreds or even thousands of colors and style options. They are also incredibly affordable and easy to install.
Unfortunately, laminate countertops peel up, chip, and scorch easily. They are also lighter compared to other materials and since some considered them inferior, they may be a drawback when you want to sell the house.
MDF
MDF alone is also a good option as it is smooth uniform and resistant to warping. If you tint it and seal it, it will not absorb water. But still, MDF kitchen countertops will not be as hardy as laminate countertops.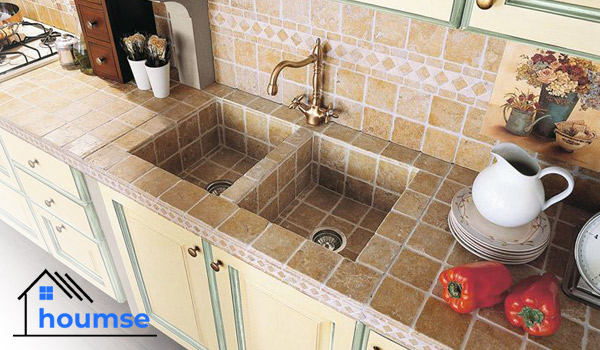 Porcelain and Ceramic Tiles
Porcelain or ceramic tile kitchen countertops are made from multiple clay-based tiles adhered to a cement core. Older versions of this type may seem off with multiple little tiles glued next to each other. But today, thanks to new and larger tiles (1*2 or 2* feet) that number is minimized, which results in a sleeker kitchen counter top that is easier to maintain as well.
This option has more to offer. They are budget-friendly (maybe only more expensive than laminate countertops), easy to install for DIYers, and can be found in a wide variety of designs such as wood, stone, and other materials.
The drawbacks of this option include the hassle of cleaning grout seams and the fact that the tiles are prone to cracking. Keep in mind that fixing the cracks requires the full replacement of damaged tiles.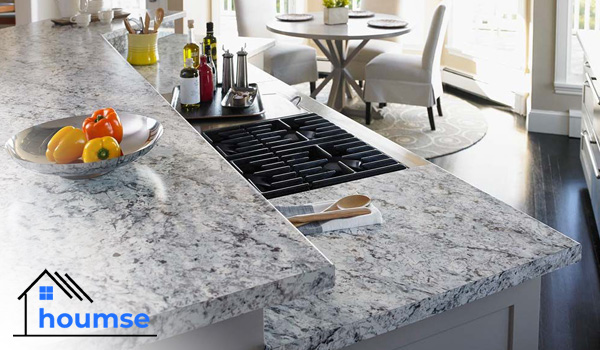 Granite Kitchen Countertops
When it comes to the best kitchen countertops, granite is an all-time favorite. You have different options to introduce this material to your kitchen and use it as the countertop:
Granite Slab
A solid slab of granite is an intriguing choice. What once was an excavated slab of natural stone, is later fabricated to meet your kitchen counter top needs and installed by professionals.
So, you can guess what its disadvantages are. Not only it is expensive, but you also cannot consider its installation a DIY project. Not to mention that similar to other types of countertops made of natural stone, it requires periodic sealing to prevent stains.
On the other hand, they are among the best kitchen countertops in terms of durability and density. These slabs are also completely unique (No two pieces of granite are alike) and offer extra real estate value. And overall, granite slabs make better kitchen countertops compared to the other two below.
Granite Tile
Similar to ceramic tiles, these small, manageable granite tiles have also adhered to a core of cement board.
Granite tiles may not be as no-seam and solid as the slabs. But offers a similar character while being easier to install (you can do it in a weekend or two) and less expensive to buy compared to any other countertop options made of granite.
The issue with this option is that you kind of need to deal with the drawbacks of both ceramic tiles and the granite itself. They are not favored by prospective home buyers, cleaning the grout seams can be a headache, periodic sealing is necessary, and are susceptible to cracking or even breaking.
Modular Granite
Modular granite is like large tiles assembled to form a countertop. So, you could say that this material splits the difference between kitchen countertops with solid slabs and granite tiles.
They are heavy, not as heavy as the slabs though, so you may be able to install them yourself. Countertop options with modular granite are also cheaper than slabs.
Nevertheless, it is important to realize that compared to slabs, this option has some seams as well as being, which increase the risk of cracking or breaking. The need for periodic sealing to protect against stains remains the same.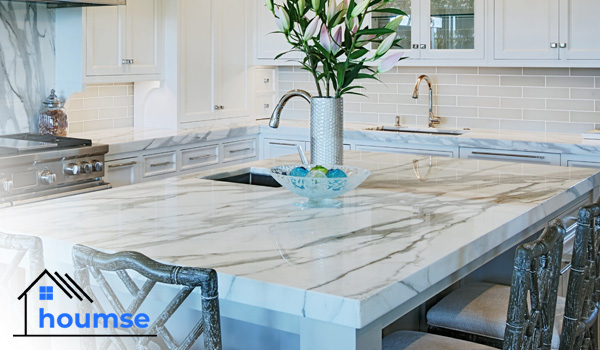 Marble Kitchen Counter Top
Natural stones and specifically marble is wildly popular among countertop options, despite their limitations in kitchen applications. Similar to granite, marble is also purchasable as solid slabs (being the best choice), modular marble, and marble tiles.
Undeniably attractive and unique veined patterns aside, this option has features that could make you rethink your decision. For example, marble is porous and susceptible to stains. So, you need to seal it regularly. As a relatively soft stone, such a countertop is easily scratched by different kitchen utensils like knives. And since it is a natural stone, expect rather high prices.
If you consider marble the number one in best kitchen countertops yet you cannot get over its drawbacks, you may want to try granite, an engineered stone, or solid-surface material resembling marble's appearance.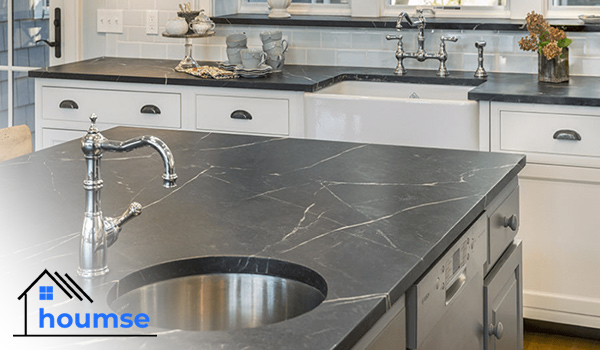 Soapstone
Although used for many years in kitchens, soapstone is one of the rare and less famous types of countertops right now. This quarried stone has a warm, light appearance that complements other elements around it beautifully. Mostly available in shades of white and grey, soapstone is not as hard as granite but is less porous than marble.
While they create an inviting atmosphere, rare kitchen countertops options made from this material still can be gouged and scratched. You also need to oil it periodically to maintain its patina. Some may think the limited shades are a negative point too.
Finally, they are not considered cheap compared to other kitchen countertops prices; sometimes, they can be even more expensive than granite.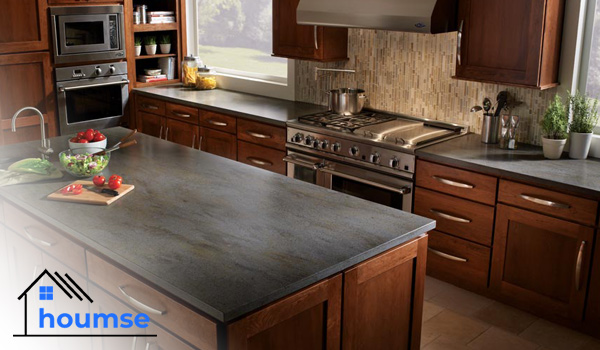 Countertop Options with Slate
Slate is another unearthed natural stone that is cut into slabs and ground to have a nice, matte surface. Thanks to features like being relatively non-porous and resistant to stains and even bacteria, slate is actually one of the best kitchen countertops materials.
Although there are limited colors to choose from (black, dark grey, green, and pink), slate slabs feature subtle veining that gives them an elegant look, almost like marble but not as dramatic. Other pros for this subtle material include durability and cost-effectiveness against other types of countertops like granite, marble, or soapstone.
The main "problem" with slate is its gritty, matte look that may not be suitable for all kitchen preparation applications.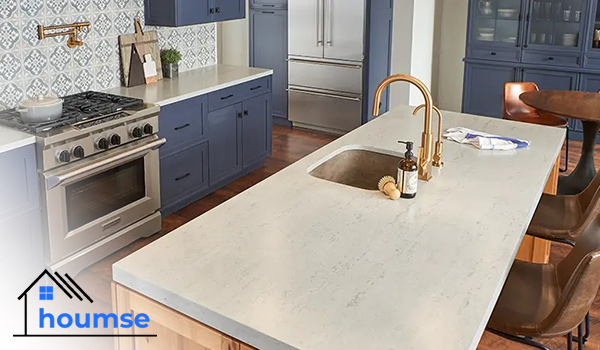 Solid Surface
Originally designed as an alternative to natural stone, this synthetic material is made of synthetic acrylic, polyester materials, and sometimes natural stone dust that are held together with resin and shaped into kitchen counter top slabs.
Resembling granite, quartz, and other natural stone beautifully, solid surface countertops can also be formed into a one-piece unit with an integrated sink. This material is more affordable than natural stone as well as engineered quartz available in a wide variety of colors and patterns.
Although solid surface countertop options are prone to scorching, cracking, and scratches, you usually can sand or buff minor scratches out with fine sandpaper.
As you can see, this material has notable merits, but you may want to know that despite a while ago when people saw solid surface as a respectable material, it is now often considered a cheaper choice for quartz and other engineered stone products.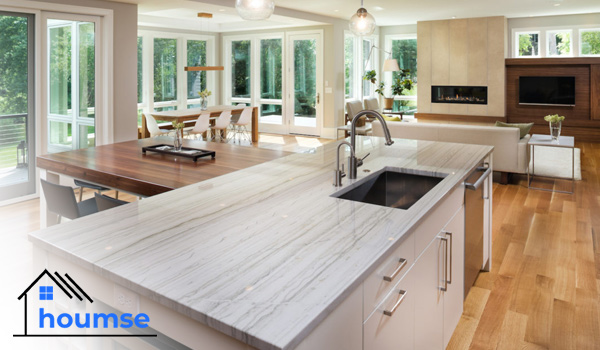 Quartz Countertops
As one of the latest and best kitchen countertops options, this synthetic material is not made from solid slabs of quartz mineral, but rather from the pulverized waste rock, resin, and sometimes antibacterial agents to offer an amazing, engineered stone product.
Due to using quartz crystals and other natural minerals in their making process, these types of countertops are gaining more popularity than solid surfaces (considering that they are also more durable and less susceptible to scratching).
Available in numerous colors and styles, you should also remember that quartz countertops are hefty, therefore not suitable for DIY, and may cost as much as granite. Nevertheless, the flexible quartz is definitely one of the best kitchen countertops on the market.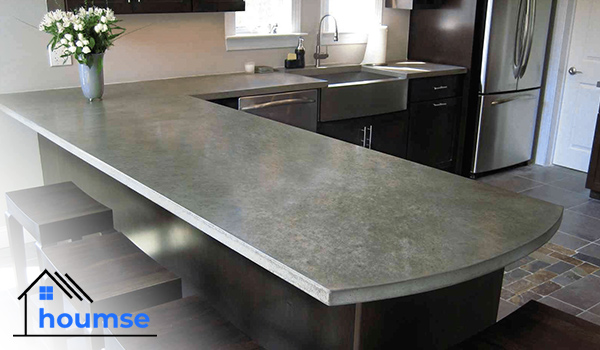 Concrete
Using concrete in decoration is becoming more and more common. We are talking about flooring, walls, plant pots, accents, and of course countertop. A kitchen counter top is usually built and poured on-site by a professional so the final product matches the space.
Depending on your preferences, the concrete can be colored, textured, or polished for a sleek appearance. This modern option can be shaped to fit any size, but it is unbelievably heavy and require a professional crew. You may also be surprised that how expensive they can be.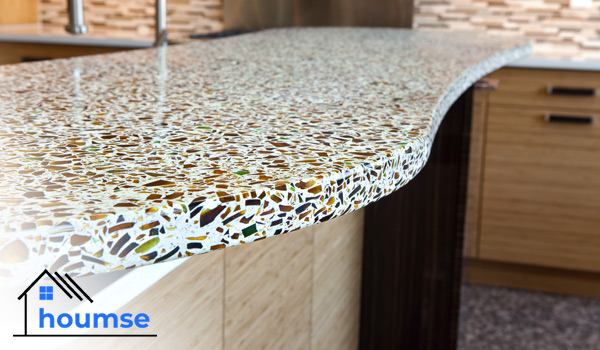 Types of Countertops with Glass
That is right. Glass is another option among kitchen countertop materials that can be fashioned in different ways:
Recycled Glass Slab
To make recycled glass slabs, a blend of recycled glass is melted and formed into slabs. As a relatively new material, you can find such kitchen countertops in various colors and styles; some of them clearly show the glass used in them and some resemble quartz or granite closely.
This option is one-of-a-kind, eco-friendly, tough, and convenient to clean. However, you might have a hard time finding them from certified companies and paying for their high price.
Recycled Glass Tile
Not a fan of expensive recycled glass slabs? There is a less expensive material with a similar effect: recycled glass tiles. This kitchen counter top is made from individual tiles applied over a cement-board core as well.
This option is more economical, suitable for a DIY project, and readily available. Although, there are some serious cons to think about. For example, they are brittle and can absorb stains. If the material fascinates you, we suggest using it for backsplashes in the kitchen.
Non-Recycled Glass
There are the new, high-tensile glass slabs in your countertop options too. This material gives an eye-catching look to your space, but that is not all it has to offer. This material is heat-, scratch-, mold-, stain-, and bacteria-resistant.
However, it is still glass and can crack. You may also not find them easily as well as an installer who is comfortable with working with them easily.
Paper Composite
These green countertops are fabricated with paper heavily soaked in plant-based resins (rather than petroleum-based). If you are searching through kitchen countertop materials to find a truly unique option, this may be what you are looking for. In fact, this material is so distinctive that many consider it an unproven choice.
You may need to special order this kitchen counter top, and face some challenges to find an installer who knows how to work with this material.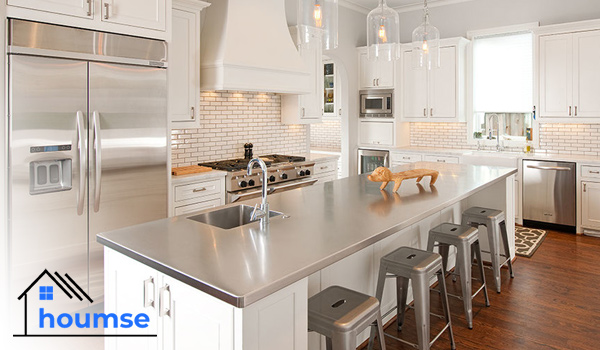 Metal Kitchen Countertops
Feeling ambitious? Then you may find the ideal option among metal kitchen countertops:
Stainless Steel
After stainless steel cabinets, it is stainless steel kitchen countertops turn to enter our homes. If you have an upper-end home and the kitchen has the right design for this material, look no more! Stainless still is also germ resistant.
These countertops are typically custom-made with precise specifications and then installed. In addition to difficult fabrication, they are not readily available and wallet-friendly too.
Recycled Aluminum
For those who prefer a more exciting option than solid aluminum (or even stainless steel), recycled aluminum is the ideal countertops. Made from solid surface scrap, recycled acrylic, and aluminum flakes for appearance, the non-homogeneous surface of this material looks like engineered stones like quartz.
Recycled aluminum is eco-friendly and offers an excellent contemporary vibe. However, this almost unproven alternative is costly and rare for installing in houses to date.
Lacquered Copper
This is the warmest option in metal kitchen countertops and thanks to a protective layer of lacquer, it will not its charming shine for at least a while. Some types of this material create an inhospitable environment for bacteria and viruses, making them even more sanitary than stainless steel.
Zinc
Among metal kitchen countertops, zinc is an unusual one. Created by applying zinc sheets on a base material, this material is often found in commercial settings like bars rather than at homes. Therefore, you can be absolutely sure about the uniqueness of this alternative.
Zinc is softer than some kitchen countertops options like stainless steel and is prone to scratches, but you can sand them out easily. If the custom and fairly expensive fabrication is not a problem, you may really enjoy having a rare zinc countertop.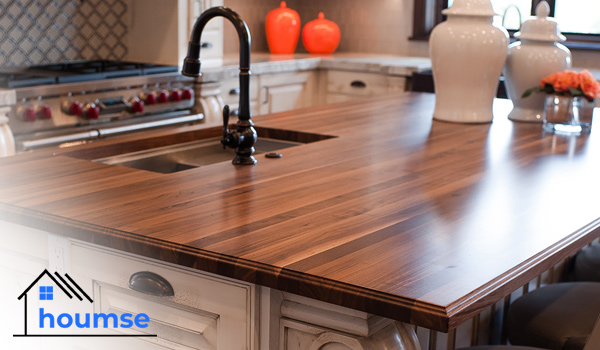 Wooden Kitchen Countertops
The amount of warmth and elegance brought to a kitchen by such a countertop cannot be compared to other types of countertops. Here are your options with wood and countertops:
Butcher Block
Even if the butcher block is not on the best kitchen countertops, it is absolutely on the most classic options, adding a lovely warmth to the overall design. And since they are making a big comeback, you may want to try it for yourself.
Butcher Block is available in a variety of woods and finishes, which are good for DIYers and reducing costs. Sanding and resealing also help you prolong its life. These types of countertops are also highly practical: If unsealed and unoiled, you can use them as cutting boards.
The possibility of absorbing stains and bacteria, regular maintenance (especially oiling unsealed counters), and swelling or shrinking over time are among the reasons that may change your mind about butcher block.
Reclaimed Wood
New wood always makes a great kitchen counter top, but we recommend a greener remodeling. Barns, flooring, siding, counters, etc. found in salvage yards can be repurposed into wood kitchen countertops for a classic, vintage look.
The needed efforts to find the right wood to reclaim, significant sealing that is better done by a certified service provider, and absorbing germs due to incorrect upkeep are among the important drawbacks of this beautiful option.
Although regular upkeep can help significantly, these kitchen countertops may also need replacing after a few years because of rotting or molding.
Raw Wood
Next to sleek options with defined edges, you can opt for raw wood with nice-looking edges. "Leftover" woods can make exceptional kitchen countertops with pros and cons similar to other wood options.
Bamboo
One of the uncommon yet intriguing kitchen countertop materials is bamboo. These countertops are made using shredded bamboo grass and resins (and sometimes wood). Compared to new or reclaimed wood, bamboo is a hardier option for the kitchen and the presence of water.
This eco-friendly material has its own cons too. For example, they are difficult to find as well as require a lot of synthetic adhesives to have a solid surface.