When do you think knowing the difference between laminate vs vinyl flooring became important?
When renovating or building a house, wooden floors have always been the ultimate option. However, they are expensive and not-so-easy to maintain. An honorable alternative like parquet may cost less, but it still lacks the convenience of caring.
And now, for people who prefer to elevate their decoration using wood-like flooring options but look for simple care and cleaning, vinyl and laminate floors are two prominent candidates. If you want to know the difference between vinyl and laminate flooring as well, this guide is for You.
What Is Vinyl Flooring? What Is Laminate Flooring?
These floorings are very different in terms of materials:
Laminate floors are made up of several sheets or layers of wood, adhered together using a highly resistant resin and not artificial adhesives. It is also known as HDF or high-density fiberboard.
Vinyl floors are made up of several layers, made of polyvinyl chloride or PVC, and fiberglass in turn. Its composition is fundamentally hydrogen, chlorine, and carbon.
When comparing vinyl vs laminate flooring pros and cons, there is one certain advantage that both offer: excellent resemblance to wood floorings. Thanks to their fine-grain structures, both materials can reproduce even the smallest details. But what separates them from each other?
What Is the Difference Between Laminate and Vinyl Flooring?
In the following, we have reviewed some of the most important pros and cons of each option based on the characteristics important to buyers. With this information, you can easily decide which is better: vinyl or laminate flooring.
Laminate vs Vinyl: Finishes
Laminate floorings offer hundreds of designs in wood finish: natural, stained, dark, with or without marked veins, in light and dark wood tones, greyish, bleached, etc. The wooden look is constant.
For vinyl floors, you also have many options that resemble natural wood. Although PVC, they also have a realistic appearance, which even imitates the texture of the natural wood grain. In addition, you can find other types of finishes that imitate stones, the ones that are dyed with various colors, hydraulic tile finishes, cement, etc.
Today, the possibilities are superior with laminate vs vinyl flooring, both in terms of realism and overall design quality.
Laminate vs Vinyl: Installation Considerations
To install vinyl or laminate flooring, you need a sturdy, smooth, and level surface. If there is a floating floor, you need to remove it before installing any of the materials.
If you install vinyl or laminate without removing the old one, any problem that the existing floor has (like moisture or movement) will affect the new floor. You can install both on a ceramic floor though.
Laminate flooring requires a base between itself and the surface, a kind of insulating layer or foam that also provide a more comfortable surface for the feet. There are different types of insulation and material with different prices; so, you may want to consider its cost when weighing laminate vs vinyl flooring costs too.
Vinyl plank flooring, on the other hand, can be installed directly on the floor, without any layer in between.
Laminate vs Vinyl Flooring: Installation Method
Laminate floors have an installation system called click, that is, each of the slats is fixed to the next with this system fitting perfectly together.
Vinyl floors can have the click system, where they do not stick to the floor; or be adhesive, where the protective paper of the glue is removed, and some pieces are glued to each other (meaning slats or tiles).
Vinyl vs Laminate: DIY Friendliness
Let us talk about the tools you may need for installing each floor in case you are going to DIY the flooring installation.
Laminate flooring, which comes in planks, is cut by a regular saw, a handsaw, or with specific cutting tools (like a guillotine for cutting them) all available in DIY stores.
However, vinyl flooring is cut with a cutter (a sharp one) and a ruler. You just need to draw the mark, place the ruler, and cut with a cutter. It comes in various formats depending on the model, not just slats.
Because of these, vinyl is considered easier to install when reviewing the difference between laminate and vinyl. It does not require an intermediate layer and can be cut with a tool usually have in all homes. Although it is important to know that when DIYing both, you must remove the floating floor if it exists.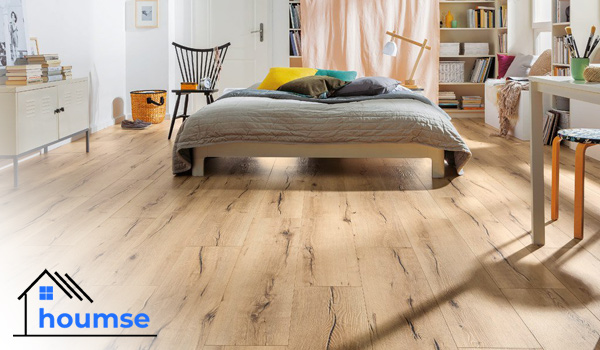 Laminate vs Vinyl Flooring: Durability
For both laminate and vinyl floors, there are different categories based on their use and resistance to wear and tear. You should always look at these features, not only because of your use but also because it makes the prices vary from one model to another within the same category.
There are options suitable for moderate use to extreme use, for commercial premises or for homes with pets, etc. In the case of laminate flooring, you will often see the letters AC followed by a number. The higher the number, the more resistant the floor will be against abrasion and other damages.
Laminate vs Vinyl Plank: Waterproofness
While trying to find a solid answer for "What is the difference between laminate and vinyl flooring?", this is a crucial detail. Depending on the room in which you are going to install the floor (especially kitchens and bathrooms), you must know if the product can handle wet or humid conditions well.
All vinyl plank floorings resist moisture and can be cleaned with soap and water. However, laminate flooring is different depending on the model. For kitchens and bathrooms, there are specific water-repellent types that are resistant to humidity. You will also find both options fire retardant (so do not worry about that when comparing laminate vs vinyl flooring).
In general, a laminate floor can be scrubbed with a well-wrung mop it cannot handle moisture well (it dries quickly), although it is recommended to clean regularly using a mop. This routine can change depending on the flooring's moisture resistance.
Vinyl vs Laminate: Thickness
Another difference between laminate and vinyl is the thickness of the pieces and the total height they add to the floor.
Laminate floors are usually thicker since they add the total height of the floor itself plus the insulating layer installed below. However, keep in mind that the thicker the sheets, the more resistant the floor will be.
Vinyl plank floorings generally have the same thickness compared to laminate options. This is because they are not made up of several layers.  In addition, they are glued or installed directly on the surface, so they do not add more than several millimeters to the floor height.
When searching for the difference between vinyl and laminate flooring, take this (seemingly small) detail into account when installing the planks over an existing floor or when removing the old one because it might, for example, prevent the doors from opening.
Laminate vs Vinyl Flooring: Cost
While comparing the difference between vinyl and laminate flooring, this is where you can find the great advantage of laminate over vinyl. If you are looking for a more economical floor (which is also easy to install), laminate is the perfect option. If, on the other hand, you are looking for something else, we recommend the floor of the future: vinyl.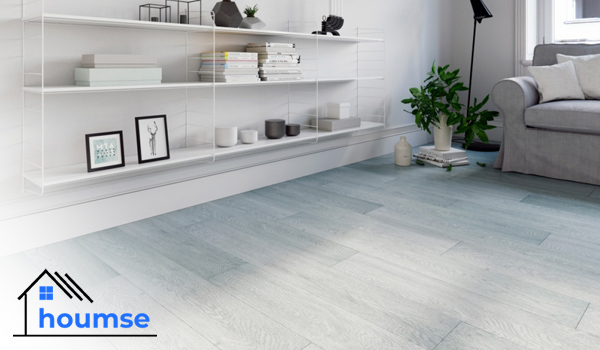 Other Vinyl vs Laminate Flooring Pros and Cons
You can find both laminate and vinyl floors with added features such as antibacterial treatments (perfect for living room where people wear shoes), antistatic designs (which help prevent lint and dust from accumulating), or non-slip (useful in rooms where you anticipate humidity, such as the bathroom)
In case you are thinking about installing any of these materials on the wall, covering the front of a piece of furniture, or creating a separation wall, you can use vinyl plank flooring with no problem. However, laminate flooring is simply better for installing on the floor.
Vinyl or Laminate, Which One to Buy?
There is not a flooring that can perform flawlessly in different situations. Knowing all the differences between vinyl and laminate flooring, you know that the answer depends on your use.
Looking for a product for laundry rooms, wet bathrooms, basements, or mudrooms? Then the moisture-resistance vinyl plank flooring is probably the better choice. Is the room you have in mind a dry area?  Then you will find more style options with laminate flooring.
Hope you have fined this article helpful, let us know what you think about vinyl vs laminate flooring pros and cons, and which one you are going to choose.