The best ideas for small bathroom remodel help you make the most out of the most compact spaces, resulting in a functional, comfortable bathroom that is also pleasing to the eye.
Although you may think that your resources are limited, the truth is that you have countless options for a DIY bathroom remodel. Join us in this post to find out about some small bathroom renovation ideas with both noticeable and subtle impacts.
Small Bathroom Renovation Ideas
Beyond changing the bathtub for a shower tray, there are many changes that you can make in your bathroom for little money. Take note of these small bathroom remodel ideas and get down to work!
Install Wallpapers
Walls are not the first go-to for many people when considering a DIY bathroom remodel. Especially installing wallpapers. However, they can be installed in the bathroom and change the overall appearance drastically.
You do not need to wallpaper the entire room, just install wallpaper on the sink wall. It will be enough to give refresh the feeling of the space. And since this is an idea for not-so-large bathroom makeover ideas, pick a wallpaper that does not have busy patterns.
Paint a Wall
If your wall is plastered but not tiled, give it a new color. This is what many interior designers recommend. As simple as it may sound for a small bathroom remodel, an accent wall creates a sense of depth.
If you choose a cold color, make sure to add some wooden furniture and accessories so they can complement each other.
Install Vinyl Tiles
Vinyl tiles handle moisture beautifully and can be installed over existing tiling, so you can give your bathroom a fresh look with minimum effort investment.
There are various models that imitate marble or other materials, allowing you to find the perfect one for a cheap bathroom remodel.
Renew Towel Rails
Among small bathroom makeovers, another super convenient is changing towel rails and holders, which can bring your bathroom into the 21st century with a small amount of money.
It is a smart idea to look for a model which contrasts with other elements in the space, for example, white towel rails with wooden sink cabinets or steel towel holders with white cabinets.
Paint The Tiles
Painting the tiles is another cheap bathroom remodel idea to consider. And yes, tiles can also be painted with no problem. There are special paints with great adhesion that offer great results.
Change The Flooring
If the floor of your bathroom bores you, a quick, as well as DIY bathroom remodel, would be to change it for a vinyl flooring. Laminate is another suitable, economical alternative.
Depending on your taste, you choose one that matches the walls or one with hydraulic motifs for a fashionable look.
Change The Mirror
This is another one of the small bathroom renovation ideas that although it is basic, has a tremendous effect. To get a more modern and even a bit minimalist bathroom, choose one without a frame, which stands out elegantly just by its presence.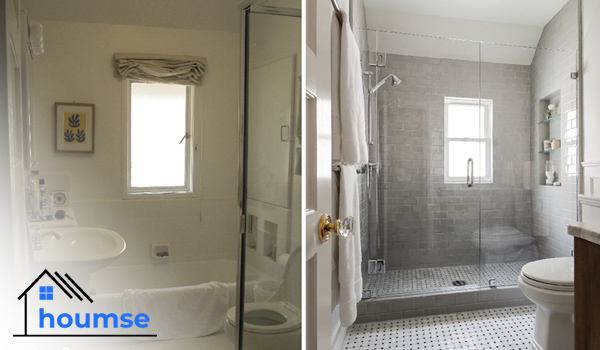 Add Warm Elements
When you look more closely, you will realize that bathrooms are in fact cold spaces. And making it a little bit warm makes a great difference. Wood is a great material to achieve this effect.
Wooden accessories, woven baskets (doubling as storage), plants, etc. are all excellent options as finishing touches for a small bathroom remodel. Even if you already have wood incorporated, we suggest keeping this idea in mind.
Update The Cabinet
Believe it or not, there are under-sink cabinets at competitive prices with which you can give a completely new look to your space. compared to other bathroom makeover ideas, it is also the perfect opportunity to add storage to store toiletries.
Turn a Chest of Drawers into a Cabinet
If you have an old chest of drawers that you no longer want, try giving it a coat of white paint and turning it into a vanity unit. And voila, you have an eye-catching piece for your small bathroom remodel.
Use New Towels
Renewing the towels is another simple gesture that will give a new look to any bathroom or toilet. Change the towels for a softer and more pleasant look.
For more visual impact in this cheap bathroom remodel, choose them in a color that contrasts with the bathroom decor.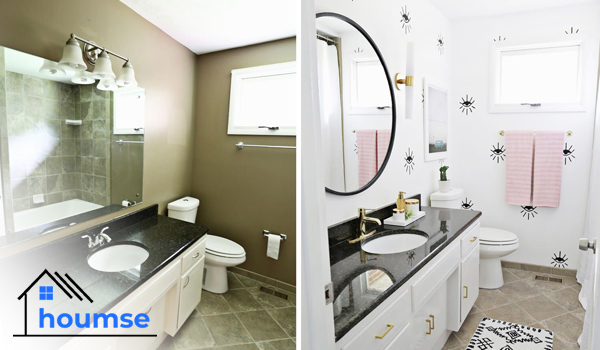 Change Fixtures and Scones
Changing such elements are very popular in small bathroom renovation ideas. For example, you can use new sconces for a more classic look if that is what you are aiming for in the DIY bathroom remodel process.
You can also use black-colored ones for a modern approach, if the taps are of the same color, you will have a nice decoration unity and style.
Install Suspended Sanitary Ware
Updating your current toilet to a suspended one is one of the amazing bathroom makeover ideas that make the space bigger. They also help in easier cleaning (for the flooring).
Small Bathroom Remodel for Two
Depending on how your bathroom is small, you may be able to pull this unique idea off. Ideal for couples and families who share the bathroom, we suggest installing two sinks in your small bathroom remodel process. Two sinks with two independent under-basin cabinets and mirrors!
2-in-1 Wash Basin with Cabinet
Such products provide both storage as well as a built-in sink in a compact structure, which makes them a superb idea.
Some of them include mirrors and other parts as well, but we would not recommend choosing one with so many compartments. It is better to keep them simple too.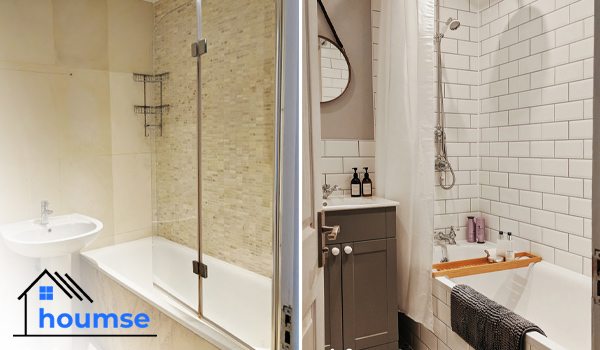 Install a Suspended Sink
If you want to take small bathroom renovation ideas to the maximum, leave even cabinets with built-in basins and go even lighter with suspended sinks. You can place a low module for storage underneath and place the towels on top, for example.
Choose Transparent Screens
Among other small bathroom renovation ideas, we strongly recommend using transparent screens instead of shower curtains. This change makes the room more spacious, as well as allows the light to pass through, and takes up less space than curtains.
Use No Screens!
As you can see, you can always take any idea a step further. For instance, you can skip the curtains and screens altogether in your DIY bathroom remodel and enjoy the resulting modern and open look.
Install a Sliding Door
It seems unnecessary, but the truth is that you can save a square meter of space. Yes, you also opt for a model in which the door is hidden inside the partition in your small bathroom remodel. This idea is far better since you can take advantage of the space inside the wall!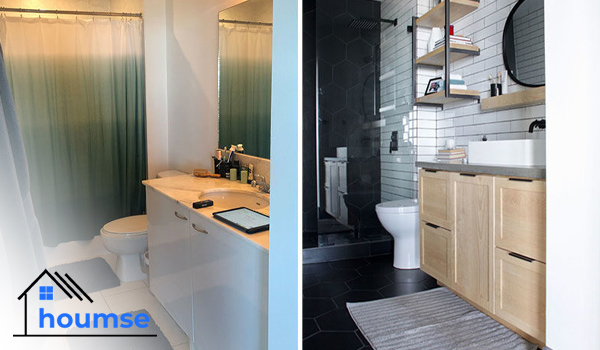 Add a Window (If Possible)
By installing a roof window, you can welcome the bright light (and warmth) that your space may be missing, which makes It appear larger as well.
Remove the Bidet
Some small bathroom renovation ideas are all about removing extra pieces if you do not use them often. Removing sanitary fittings like bidet is one of them to have more empty space.
What Are Your Favorite Small Bathroom Remodel Ideas?
Found the inspiration you were looking for? Let us know which one was your favorite. By the way, what other bathroom makeover ideas do you think we should add to this list?