A small kitchen is not everyone's favorite. However, that does not make a small kitchen remodel any less exciting. Don't believe us? Simply look at all the kitchen before and after images out there, offering genius ways to make the most of every inch and every corner to create functional storage as well as charming decor.
For a small kitchen renovation, it is important to think the process through. The location of the sink area is pretty much decided by the plumbing. But you can play with different small kitchen remodel ideas for other elements such as storage, appliances, or the cooking area.
In the following, you will find some of the best solutions and ideas to have your own perfect version of a small kitchen remodel before and after!
Small Kitchen Remodel Ideas
Okay, let's see what you can do with a not-so-large kitchen"
Shared Spaces
In loft-type layouts and open-plan floors, the kitchen itself can be the necessary separating element to make spaces independent, at least visually. In this case, it is the front of the cooking area that divides the two rooms.
A smart solution for a satisfying kitchen before and after is extending the countertop's width and converting it into a bar for fast food, coinciding with the living room area.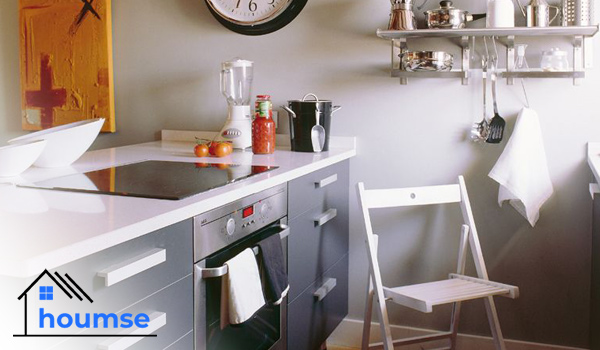 Change The Lighting
Some ideas for small kitchen makeovers are subtle but have considerable impact, like this one. As sometimes a change in lighting makes a room look totally different.
Because of this, playing with lighting is one of the smartest tricks if you want your kitchen to look spacious. To achieve this, open new points of light or change the design of your current lighting with some help from a professional.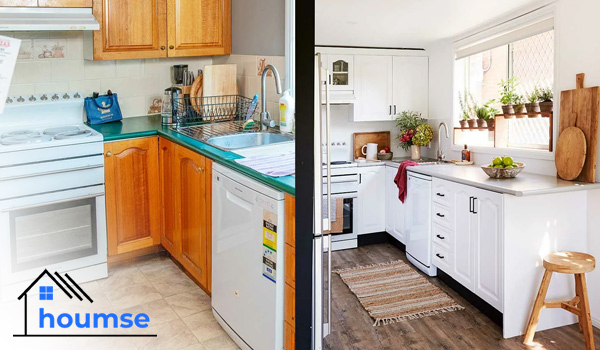 Open Pantry
A key to successful small kitchen makeovers is converting some areas into multifunctional ones. For example, the washing and ironing area can perfectly harmonize with a well-organized pantry as well as storage for cleaning products. As evident in this small kitchen remodel, everything is in its place with no clutter.
If there is a pillar in the center of the kitchen, you may want to take advantage of it by using it as a support for some fixed shelves. It is a great idea as open storage that simultaneously acts as a separating element between rooms.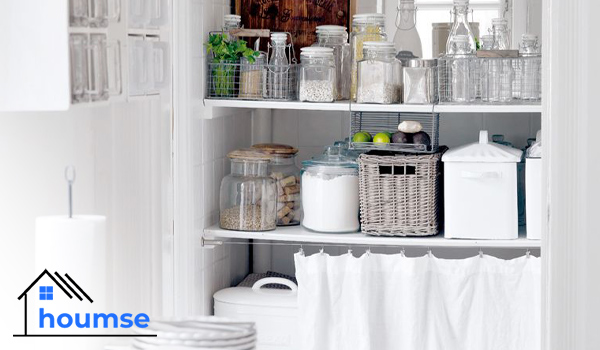 Avoid Crowding the Walls
True, walls are great when it comes to providing storage areas in small spaces. But this can be tricky. As overwhelming it with excessive furniture, accessories, and decorative pieces will not allow the kitchen to breathe. So, make sure to give a little air to the environment by clearing the wall.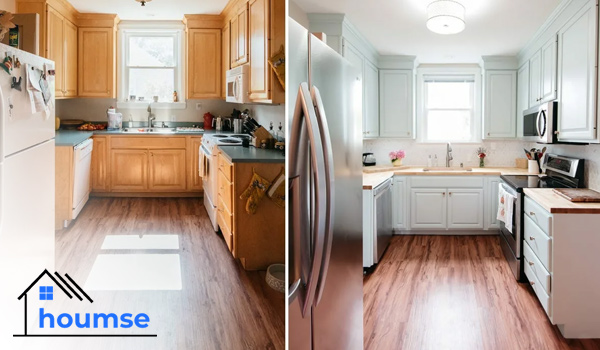 U-Shaped Small Kitchen Remodel
The kitchen must be organized around a triangle whose sides are the refrigerator, the gas stove or a hob, and the sink. To reach this setting with hardly any movement after your small kitchen renovation, the maximum size of the triangle should be between 1.20 and 2.50 meters.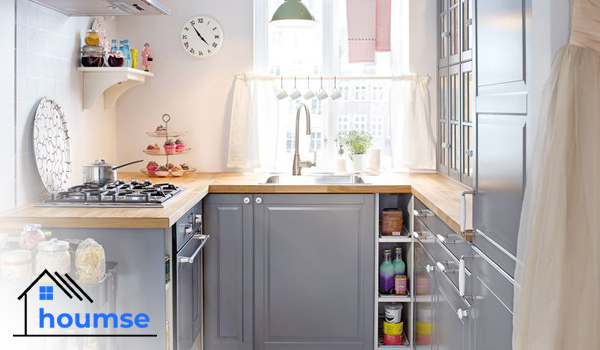 Remove Partitions… Or Walls
Whenever you can, strip partitions down and open the kitchen to the living room or to the dining room, as you can also see in many small kitchen makeovers.
Or replace one of the walls with a glass one. This is a super trendy option that opens the space and makes it appear larger, without the kitchen fumes flooding the living room.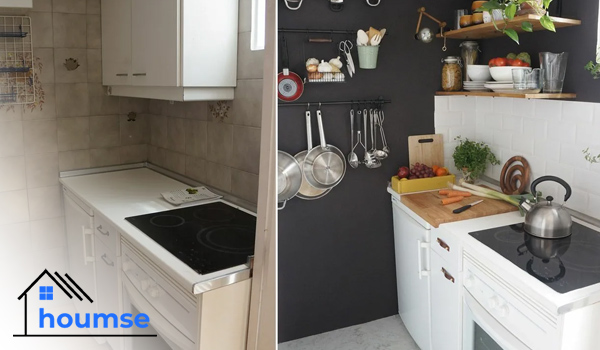 Floating Shelves with Visual Lightness
This is necessary for a professional small kitchen remodel. Floating shelves above lower cabinets are excellent for wall-to-ceiling cabinets when space is limited.
This solution declutters the environment while offering storage for jars, cans, or kitchenware; Of course, it is recommended to keep it organized since they are always in sight!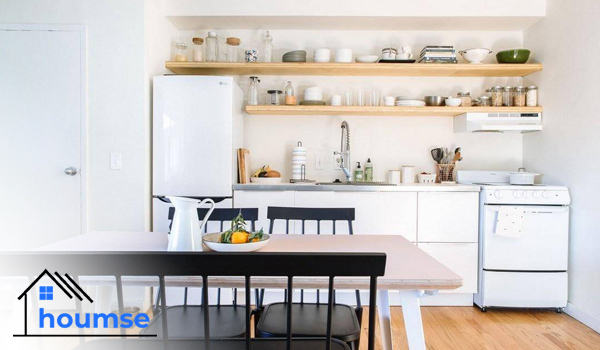 Mini Breakfast Bar
Care to make your small kitchen renovation a bit more exciting? If yes, consider this idea. Creating a food bar is easy with a shallow console and a few stools. Another option is fixing a shelf to the wall to serve as a bar.
As you can see, light tones enhance natural (or artificial) light and provide a neat, clean feeling in the kitchen. However, to personalize the environment and bring it to life, a few pops will do the trick, even in small doses. Accessories and textiles will be your best allies here.
In general, A great idea to give the kitchen a modern touch, while helping you define and organize the space, is installing a breakfast bar. You can use it for cooking, eating, and even working. it is a practical complement that undoubtedly brings a lot of personality to a kitchen.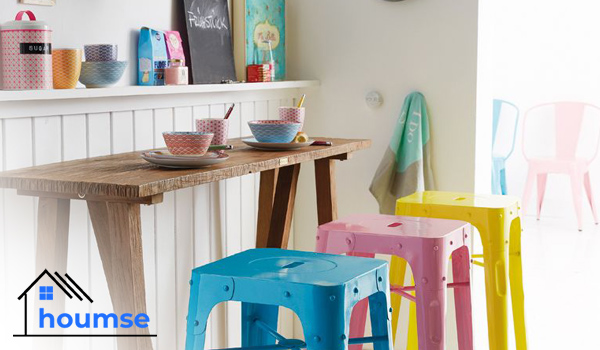 Small Kitchen Makeovers with Auxiliary Furniture
Even the most unexpected corner of the kitchen can gracefully accommodate an auxiliary piece of furniture in a form of (for example) a small sideboard as storage for kitchenware and other accessories.
In this quick small kitchen remodel idea, some designers even take advantage of the space left by tables in the corner to store the broom, allowing the utensils to coexist wonderfully in perfect order.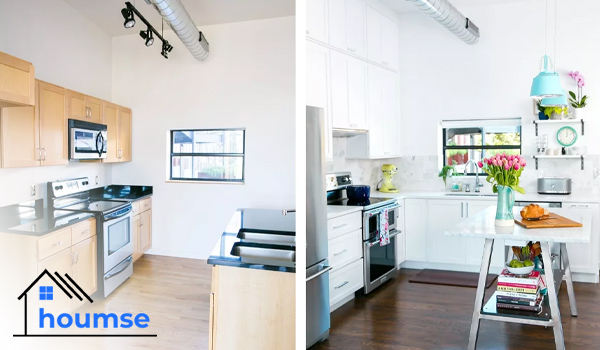 Modern Problems, Modern Solutions
Some small kitchen remodel ideas may be expensive, but they are incredibly excellent at saving space and offering function.
The best household appliance manufacturers offer models specially designed for small spaces, such as modular hobs or extra-flat hoods, like this one from AEG, with a modern design.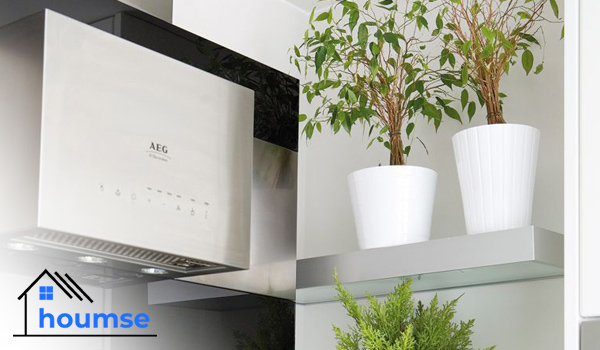 Decorative Cutlery Holder
It is likely that in a very small kitchen, drawers are scarce or even non-existent. For these cases, some decorative cutlery holders will come in handy to organize the cutlery. These are zinc buckets from IKEA.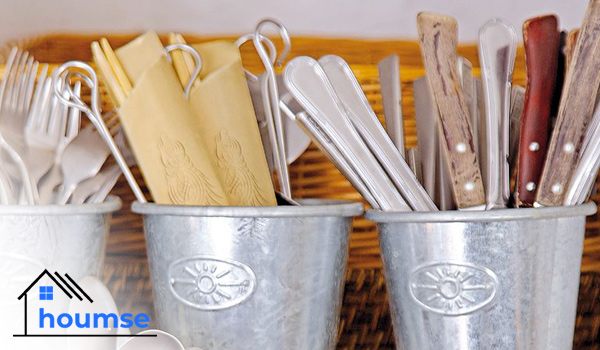 Renovate The Cabinets
Changing the cabinets is another of those ideas that you always see in the kitchen before and after images. As this move always enhances the pace and just doesn't miss. After all, brand new cabinets are almost, almost like a brand new kitchen, right?!
We recommend you choose different designs from the usual ones, and, for an even more astonishing look, you may want to consider glass cabinets.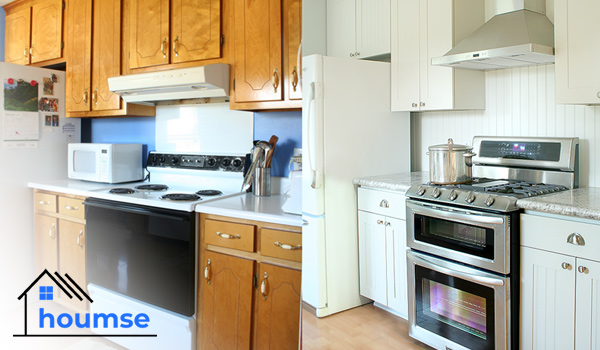 Retro-Inspired Small Kitchen Renovation
The great advantage of modular kitchen furniture is how easily they fit into compact areas. In addition, recreating the kitchens of yesteryear, this piece of furniture was closed with showy fabric curtains made with kitchen towels.
A notepad from years ago and an old grocery store scale complete the vintage look. You can find all these items in IKEA as well.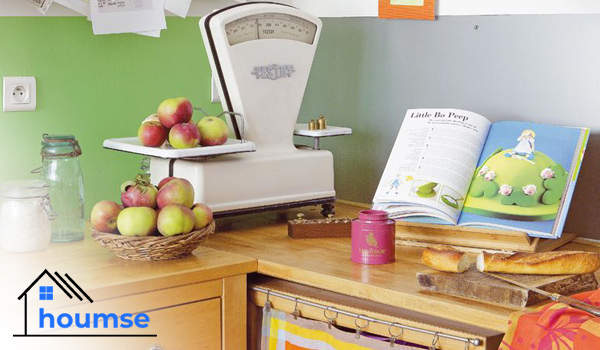 Hangers In the Kitchen
The wall provides precious space that often goes unnoticed, except in a kitchen before and after project!
If there is enough storage (like cabinets) and you're not going to install shelves, you may want to use a few beautiful hangers to hang your weekly plan, favorite recipes, kitchen towels, or other things that you should have close at hand.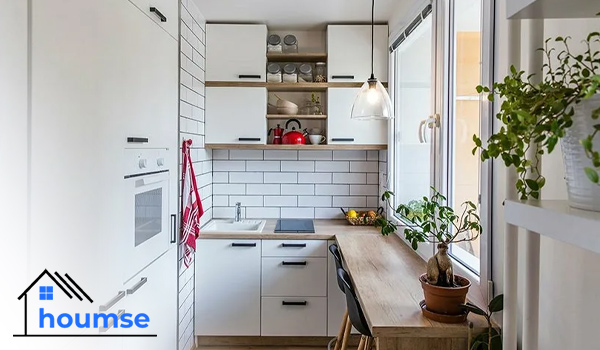 New Storage
tablecloths, napkins, kitchen towels, placemats, etc. all are necessary for the kitchen requiring their own storage space.
a tall and narrow shelf may be a smart as well as a new solution among small kitchen remodel ideas with shelves and hooks. It takes up little space and offers several shelves on which many textiles will fit if simply folded.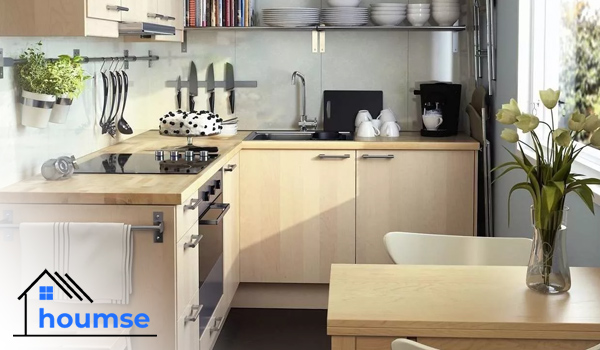 Install Vinyl Flooring for Small Kitchen Remodel
Want to have a kitchen before and after in a matter of minutes? Then you've found your idea. If the flooring in your kitchen is old and offers no more visual appeal, you can easily renew it by installing a vinyl floor.
Its fundamental advantage, although it has others, is that it is installed without complications, either glued or by click system, without having to remove the existing flooring or dismantle the kitchen furniture.
You can find it in slats, tiles, or rolls, and you have a very long repertoire of colors and patterns to choose from. Some of the imitate various materials including wood, cement, ceramic, hydraulic, etc. too.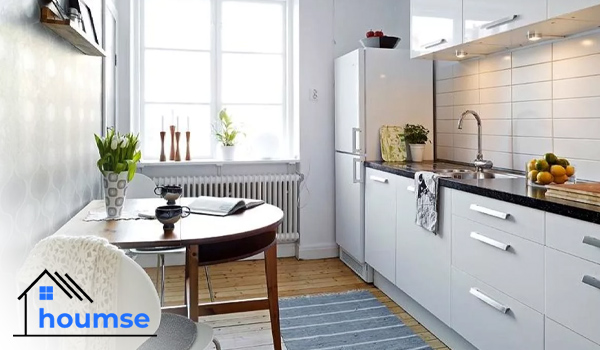 Reorganize The Space
At times, a kitchen before and after can be impressive enough simply by reorganizing. On many occasions, if a kitchen seems small, it is not so much because of the actual space we have, but because it is badly organized or designed.
It is time to rethink the space usage in your kitchen: for example, it is recommended to avoid furniture and countertops that are too high and that you have enough storage areas so that the kitchen does not seem crowded.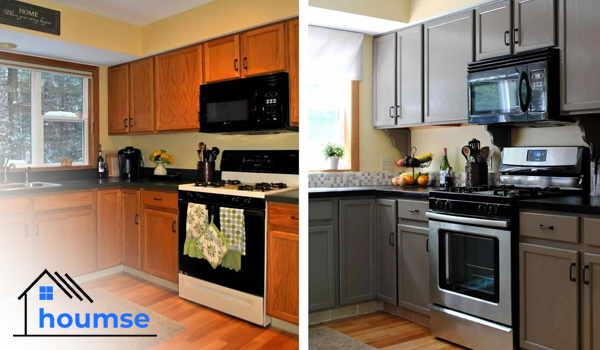 Use the Right Furniture
The importance of furniture type and style in a small and practical kitchen is undeniable. To pick the right ones for your small kitchen remodel, consider these details:
Use custom furniture to take advantage of even the smallest corner.
Go for glossy surfaces as the light reflection makes the environment spacious.
Decorate with furniture in light colors like white, beige, and gray tones.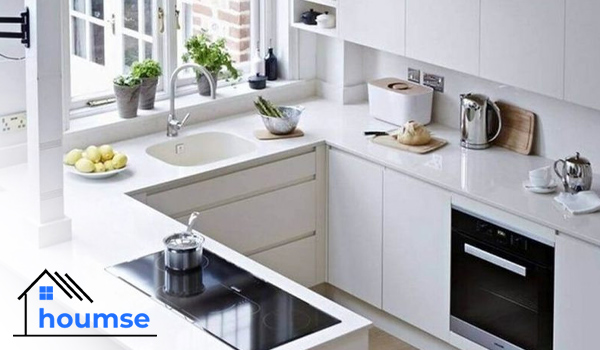 Renew The Countertop
In the kitchen, most of the work is done on the countertop, they even allow us to store and show off things. And because it is noticeably visible in the kitchen, an outdated or worn countertop can give the kitchen a more unpleasant look than it really is.
For this reason, renovating the countertop should be one of your priorities for the small kitchen remodel. For the material, we recommend natural stone, micro-cement, or porcelain surfaces (the latter is much cheaper).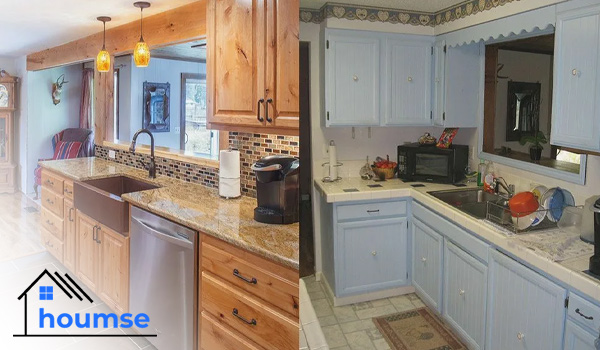 Other Ideas for Small Kitchen Renovation
Here are a few more ideas to have in mind:
Sliding Doors: They do not take up space and are perfect for any kitchen, especially small ones.
American Kitchen: perfect to obtain more square feet, also in the living room. They are also more practical, comfortable, and generally elegant.
Large Tiles: For a striking kitchen before and after. it is better to opt for large tiles, the same or similar to the flooring to make the space look bigger than it is
Three Materials or Less: This approach in small kitchen remodel guarantees a feeling of more space and uniformity. Therefore, it is best to choose one material for the floor, another for the walls, and another for the furniture.
Handles: Opt for furniture with gola or push-type handles, that is, they do not protrude. Making them the ultimate handle models for small kitchens.
Appliances Size: If you are going to get new appliances, keep in mind that 1.5 feet wide dishwashers or refrigerators are ideal for small kitchens. In addition, you can choose those that perform several functions, such as washer-dryers.
Sink Size: it is best to opt for those that have a single bowl, about 2 feet, as they provide more space.
Distributing a Small Kitchen for Best Results
Don't know how to distribute your small kitchen correctly? Here are some tips that can help you have a small yet practical kitchen:
Don't Go too Far: you must achieve an adequate distribution, without overloading it.
Take Advantage of Natural Light: take advantage of the windows and place the laundry area there.
Simple Lines: it is better to choose furniture with interior shelves than others with few but a lot of depth. And it is better than straight lines predominate. Also, choose cabinets with hidden handles or sliding doors as mentioned earlier.
No Clutter: organization is essential so the space doesn't look even smaller, and you can move easily throughout the room.
Add a Mirror: Although not common and visible in the kitchen before and after images, a mirror gives a feeling of spaciousness, which is essential for a small kitchen.
Ready for Small Kitchen Remodel?
A lot of people are looking for small kitchen remodel ideas to reform a small kitchen in a striking and original way. And it makes sense: in big cities, almost all of us live in small apartments, but, at the same time, kitchens have an important role recently.
They are no longer simply the place where food is prepared: they are rooms in which we spend a large portion of our time (preparing meals, dining, sharing time with loved ones, etc.). Therefore, we aspire to make them functional spaces, as well as modern and comfortable.
If you love cooking, but the small space and all the furniture, appliances, and accessories overwhelm you, hopefully, you've found the inspiration you were looking for here. Share with us your favorite kitchen before and after makeovers and let us know what you've ultimately done with the place.