Are you considering installing kitchen vinyl tiles? Are looking for information on the installation or maintenance of vinyl kitchen flooring? Are you going to make a purchase and want to see some kitchen vinyl flooring ideas?
Find everything you need to know about these floorings here, along with trendy ideas, and become an expert!
What Is Vinyl Kitchen Flooring?
vinyl kitchen flooring is a PVC flooring made of polyurethane with 4 or 5 layers (depending on the resistance) that are water-repellent, hygienic, and non-slip with numerous patterns and colors to choose the one that best suits your kitchen.
You can purchase this flooring in packages that contain several units of click system vinyl plank flooring or self-adhesive kitchen vinyl tiles usually determined by the space they cover in square meters.  You can also find them in rolls, known as continuous flooring.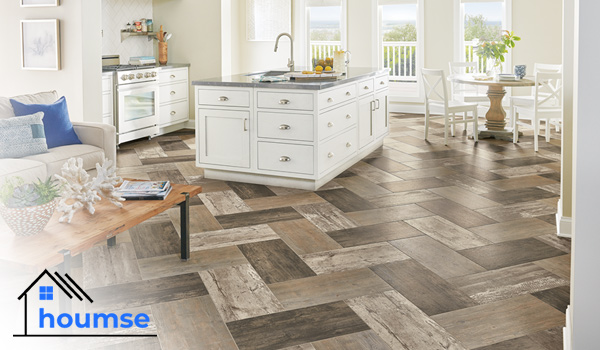 Kitchen Vinyl Tiles, Planks & Rolls: Pros and Cons
No matter what kitchen flooring ideas with vinyl you favor, nevertheless, this material offers such advantages:
Highly Resistant
The vinyl floor is very resistant to bumps and scratches. When appliances or other furniture are dragged on it, they will leave no mark.  Additionally, it is specially manufactured for areas with high traffic as the kitchen.
When purchasing, it is important to check its hardness. Kitchen vinyl tiles and floorings have a hardness suitable for families with pets.
Tip: Thanks to their non-slip nature, this material is perfect for areas with moisture like the kitchen as well as bathrooms.
Economical
At the end of the day, kitchen flooring ideas with vinyl are surprisingly affordable. Considering the advantages that they offer, as well as their price, many prefer vinyl kitchen flooring over all-time favorites such as ceramic or parquet slabs.
Easy to Install
Even complicated designs require nothing more than being placed on the surface and adhered to the old slabs, facilitating the installation, and saving time. Some do not even require adhesives and simply click.
Infinite Designs
You can find kitchen vinyl tiles, planks, or rolls in all shapes and colors, imitating wood, stone, etc. ready to complement any style of decoration. Thanks to this advantage, when it comes to kitchen vinyl flooring ideas, the sky is the limit.
Easy to Maintain
Since it is made of plastic and waterproof materials, you can clean this material with a mop and floor cleaners that do not contain solvents to prevent any damage.
In addition, kitchen vinyl tiles prevent the accumulation of bacteria and mites beautifully, which makes the kitchen a more hygienic place.
Soft on Feet
Kitchen flooring ideas with vinyl have another thing in common: they are nicely soft on the feet. Thanks to the layers that they have, this material acts as thermal insulation as well, keeping the kitchen at a more pleasant average temperature.
Incredibly Long-lasting
This type of flooring can last between 10 to 20 years, depending on the maintenance conditions and the wear and tear that they can withstand.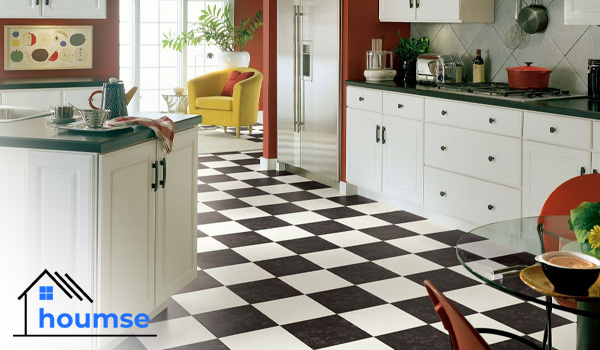 Next to these advantages, keep in mind that brilliant kitchen vinyl flooring ideas can have some problems as well:
Delicate Against Heat
Different types of this flooring are affected by heat and sun and can lose their color if they receive direct sunlight continuously or even lose their fixation to the surface to which they are attached.
Not Covering Surface's Problems
kitchen flooring ideas with vinyl show irregularities in the underlying surface, which damages them over time as well. So, before installing kitchen vinyl tiles, planks, or rolls, make sure to level the surface perfectly.
Low-quality Models
keep in mind that very low prices for this type of floor mean low quality.
Kitchen Flooring Ideas with Vinyl
Not sure which kitchen vinyl tile to choose? Here are 9 ideas for your space, all resistant and durable options that are also easy to clean and install.
Industrial Options
The industrial style takes its inspiration from New York lofts with high ceilings and spacious rooms, which give a feeling of incredible openness. It is a very fashionable style that you can bring to your kitchen with the right kitchen floor ideas. For an industrial effect, choose kitchen vinyl tile with concrete or a weathered stone look.
Pro Tip: The exposed brick walls provide a very industrial touch, which you can also combine with visible metal beams as well.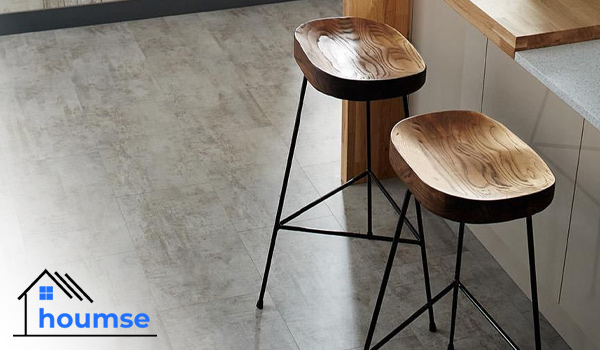 Rustic Options
The rustic style will never go out of style. It is characterized by its simplicity without too much ornamentation and a charming, aged character. To replicate such a vibe, go for kitchen vinyl flooring ideas with wooden looks.
Because as you know, one of the main materials in the rustic style is wood, in the beams, the furniture, and of course, flooring. Kitchen vinyl tiles are in fact the best way to incorporate wood in the decor since they are more resistant than wood.
To maximize the aesthetics, look for options with an old wood effect, marked grains, knots, and a worn, aged appearance. Also, for a seamless atmosphere with a rustic character, pair the vinyl kitchen flooring with antique furniture featuring handcrafted looks and aged finishes.
And remember, less is more. So, do not use too many elements; always look for simplicity and functionality in each one of them.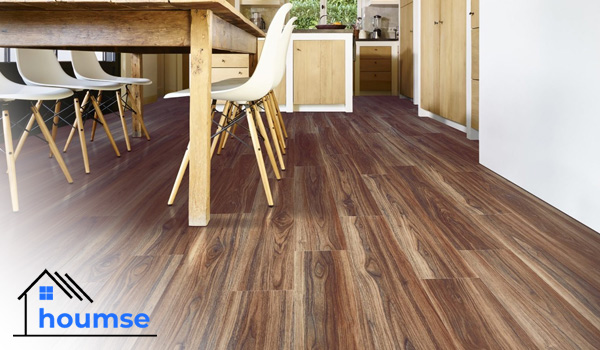 Minimalist Options
Minimalism in decoration is inspired by functional spaces, where each element has a purpose. Excessive decoration is avoided, which results in visually lighter environments. The objective is to create luminous spaces that transmit tranquility and serenity.
Minimalist style vinyl kitchen flooring has very light tones in general, which provide a lot of light to make the space more open. So, all you need to do is pick a light shade of your favorite color.
In minimalist style, kitchen flooring ideas with vinyl pair very well with modern elements featuring straight lines. To achieve the perfect minimalist effect, opt for monochromatic spaces, where neutral tones such as beige and brown are used.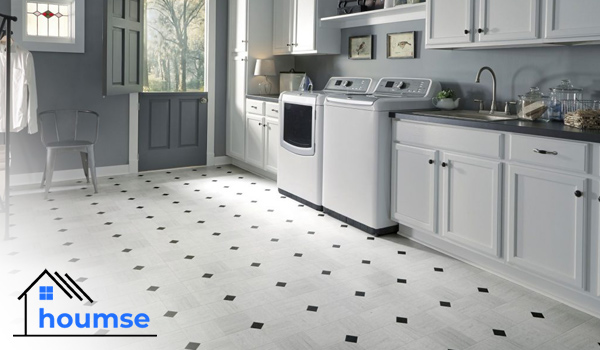 Modern Options
The modern style is very similar to the minimalist. The essence of this style is based on straight lines, smooth surfaces, and maximum functionality. The objective is to project a practical space where the elements provide a clear functionality to it.
To create such spaces, consider kitchen flooring ideas with vinyl that offers light, smooth, and uniform tones, which make the space appear larger and brighter.
Pro Tip: For a more authentic modern look, choose simple furniture with straight lines and without moldings. You can opt for shades like black or white for an elegant result.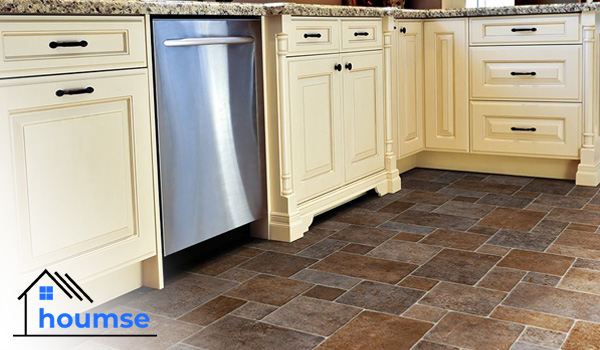 Nordic Options
If there is a style that has stood out in recent years, it is the Nordic style. The heart of this decorative style is enhancing light and bright spaces, with white walls, light floors, and functional elements to create a simple, comfortable, and very functional environment.
Therefore, the best kitchen vinyl flooring ideas for Nordic style are white and light beige tones, options that reflect the simplicity of space better than other shades.
To achieve uniformity throughout the space, choose the same kitchen vinyl tile for the rest of the home. This way, you will have a visually more consistent and lighter environment.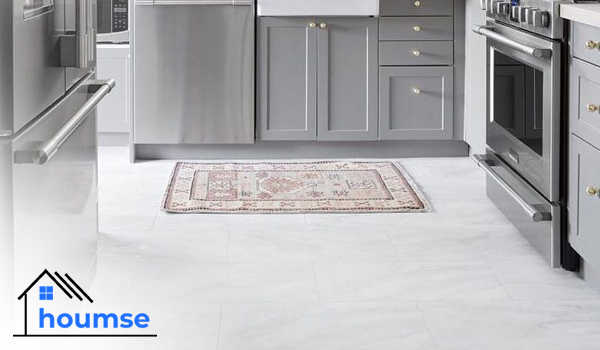 Hydraulic Kitchen Vinyl Tiles
Kitchen floors with a hydraulic tile finish are a trend in interior decoration, especially in retro and vintage styles. Currently, you can find hydraulic kitchen vinyl tile boasting a spectacular visual finish while offering excellent resistance and waterproof features.
These kitchen vinyl flooring ideas have an attractive retro touch that brings dynamic to the space and fit vintage decors. If such tiles interest you, choose simple flooring for the rest of the house to avoid cluttered looks and achieve visually lighter results.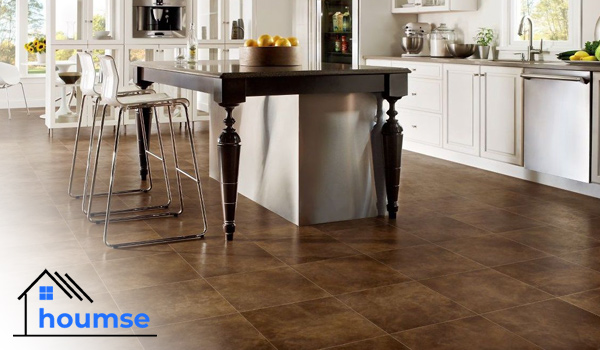 Concrete-Looking Vinyl Kitchen Flooring
Concrete effect kitchen vinyl tiles or rolls are ideal for industrial decors, where simplicity and elements are sought in their most natural state. You can find various models with a cement finish that, in addition to being durable, are resistant and waterproof, like concrete.
We recommend combining such kitchen flooring ideas with vinyl with other pieces and furniture with a worn look for a unique effect. To maintain uniformity throughout the house, it is better to use the same floor for other rooms.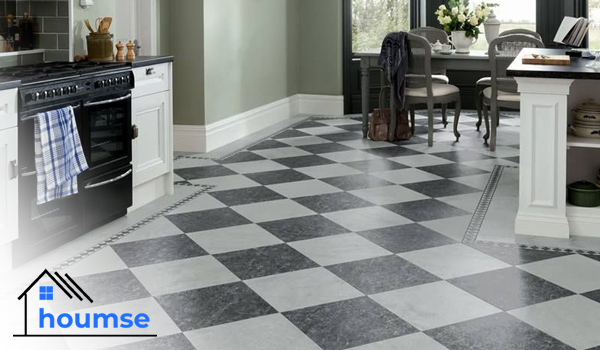 Wood Effect Options
Wood is a delicate option for moist rooms, such as the kitchen. An alternative to wooden floors is kitchen vinyl tiles and planks that recreate a wood appearance perfectly. This material allows you to have a resistant, durable, and easy-to-clean space, without sacrificing the beauty of elegant wooden flooring.
Wood effect vinyl kitchen flooring is warm and welcoming. But for extra warmth, choose vinyl in brown tones. If your kitchen is open and large, you choose darker tones as well.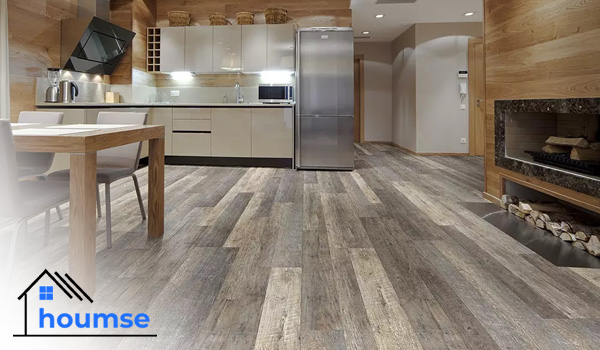 Stone Effect Options
Everyone loves stone floors. However, underneath their unmatched beauty lies high price, challenging installation, not being soft on the feet, coldness, and possible cracks due to impacts.
Today, you can easily find kitchen vinyl tile designs that perfectly imitate this granite, slate, or marble. They bring a touch of authenticity and elegance to the space, perfect to use in minimalist styles.
What Are Your Favorite Kitchen Vinyl Flooring Ideas?
Which of these ideas did you find more intriguing? Did you find the inspiration you were looking for? Let us know in the comments!