Nursery decor can be quite expensive and it is not permanent either. Nevertheless, styling a room for your baby boy or baby girl is one of the biggest joys in life. With some creative nursery decor ideas, you can design a lovely place without spending too much. Let us take a look at some of these ideas.
---
Sophisticated Baby
While most parents are looking for whimsical rainbow nursery decor, you may want to consider something different for your little angle. How about a gender-neutral nursery scheme that is charming for your baby as well as yourself?
Using metal elements (or the ones that resemble it) like an eye-catching chandelier, a modern standing lamp, a mirror, and a carpet with an abstract pattern may seem too much. But add a plant-inspired wallpaper for a touch of whimsy and other nursery decor essentials (cot, toys, etc.) and you will love the result.
Full Wallpaper
By choosing the right wallpaper and installing it, you will have instant decor. Bold prints will also serve as a baby girl and baby boys wall decor, but you can always hang frames or install open shelving. Just remember to complement such a design with neutral colors and clean lines.
Monochromatic Nursery Decor
Monochromatic spaces accompanied with simple nursery wall decor are becoming more and more popular. Even the most boring colors (like grey) can create a nice space if you benefit from an accent wall, and other additions like floating shelves and the crib itself.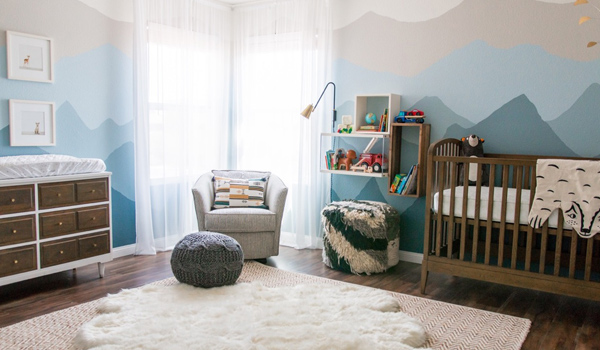 Traditional Nursery
We have good news for those who are still fascinated with timeless traditional elements and designs, there are many cute nursery decor ideas for your girl or boy too. A subtle wallpaper, an upholstered crib (preferably as a focal point), and a mirrored wardrobe can offer the sweetness of this style perfectly.
Other options like a crystal chandelier, scones, sculptural elements, or faux fur textures may help you as well.
Go Modern & Trendy
A design inspired by millennial trends offers an adorable combination of essential and baby room decoration items such as a plush rug, wooden toys, and a lot of greenery. Add some muted tones like terracotta, sepia, or jade green, and you will have a modern space that is incredibly perfect for a newborn.
Jungle Nursery Decor with a Twist
As one of the most popular nursery decor ideas for boys and girls, there is more than one way to create a cute jungle in a room. For example:
Hanging picture frame from illustrated animals.
Creating an accent wall with jungle inspired decals.
Adding animal plushy or animal-like furniture and accessories.
If you are looking for a green yet more timeless design and nursery wall decor, you can incorporate floral decals for nursery wall decor, and complement it with plush animal toys, faux fur, pom-poms to create an overall cozy feel. If you prefer, you can also add gold accents for a touch of sophistication.
Or, you can "really" go green. We mean a green rug, a mellow green intricate wallpaper, green wall art (like framed leaf prints). And then, you can bring all the attention to your newborn with a white crib.
Dark Theme, On
Do not be intimidated by dark colors when deciding about baby girls or baby boys wall decor. Does black intimidate you? Pair it with another color like white or light pink and enjoy the resulting child-like whimsy. Other furniture or delicate patterns in the second color will keep your dark-themed nursery decor from feeling too moody.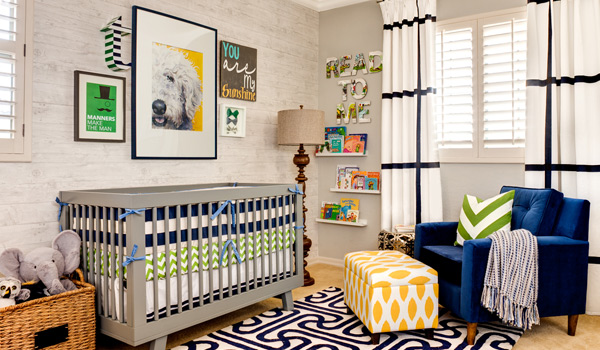 Rustic Nursery Wall Decor
If you have wooden flooring, farmhouse wall decor is all you need to create a rustic baby retreat as well as a cabin getaway for yourself! A white crib and woodland plush toys are among perfect additions to dark wooden accents that offer a cozy feel too.
A Pop of Color
If neutral designs do not really work for your, balance it with adding pops of color (especially if you are choosing not to find out the gender of your baby). These pops of colors can be anything; nursery wall decor, baby room decoration items, a colorful clock, a unique rug, posters, etc.
Eccentric & Cheap Nursery Decor
Try mixing and matching colorful prints in primary-colored frames, and make it more exciting by adding other items like nursery wall decals, a rainbow pom-pom garland, and a bright and cute clock. It may sound like a mess, but it will work beautifully, and you will realize that you do not always have to have a coordinated theme to have a lovely nursery.
Just Washi Tape
There are tons of nursery wall decor for a girl and a boy with inexpensive washi tape stripes. You can simply cover the walls with little + sighs, draw colorful mountains, sprinkle them like ice cream with colorful tapes, or simply go for simple stripes. This is the ultimate cheap nursery decor.
A Changing Nursery Wall Decor
Are you looking for fresh nursery decor ideas for the walls, but at the same time you are worried that your child may soon start drawing on the walls and all over your efforts? Try blackboard walls. Your child can draw all she/he wants on it, and you can also draw the most beautiful things and patterns on the upper parts.
Tip: Use white furniture to balance the dark color of the blackboard walls.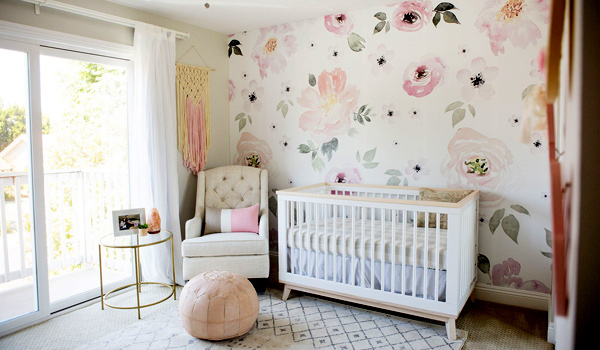 More Privacy!
Add a canopy to your baby's crib for a cozier feeling. If you are going to go with this idea, make sure to remove it as soon as your baby girl/boy is more mobile and can grab at the fabric.
Neutral, Simple, Sweet
Neutral designs have a permanent spot in nursery decor ideas. A simple room with neutral colors, muted artworks, and large mirrors can do wonders for you. Just try it.
Classic Nursery Wall Decor for Boy & Girl
Among nursery decor ideas for decorating the walls, there are some classic options that just cannot go wrong. Like creating a gallery wall with frames, paper flowers, garlands, and other elements you already have in the home.
You can also see the wall to complete themed nurseries. Install relevant elements, posters, signs, and other baby room decoration items. Or, mix and match wallpapers for an extra sense of playful sophistication, but restrict the color palette to two or three hues. Another adorable idea would be (making and) installing a growth chart in the room to track your little prince/princess height.
---
Other Nursery Decor Ideas
Install a blackout blind.
Set up a diaper station.
Choose a modern and unique crib.
Install floating shelves to display favorite bedtime books.
Ready to style your baby's room? Let us know which of these ideas you like the best. Happy decorating!